Moscow Ballet La Classique to tour Australia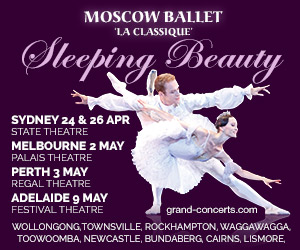 Grand International Concerts will present the welcome return of Moscow Ballet La Classique to Australia next month. The company will present its spectacular masterpiece Sleeping Beauty, which is one of ballet's most loved fairytales. Featuring the classic music by Tchaikovsky, the lavish production will tour nationally from April 7.
The great success of Russian theatre is undoubtedly its reputation worldwide for classical ballet. And the highly-acclaimed and respected Moscow Ballet La Classique showcases the revered technique and widely admired discipline of Russian dancers.
The company was established in 1990 by its current Artistic Director Elik Melikov and is currently celebrating its 25th anniversary. It has earned noteworthy status for its intense training, extravagant costumes and magnificent stage sets.
The illustrious Moscow-based company will take Australian audiences on a mystical journey to the fairytale world of Princess Aurora, the "Sleeping Beauty." In this two-act fairytale performance, Moscow Ballet La Classique will capture the imagination and the magic of Sleeping Beauty, a gratifying dance spectacular for ballet lovers of all ages.
For more information, visit www.grand-concerts.com. See tour locations and dates listed below, as well as the trailer to get a glimpse of the production.
2015 Australian Tour Locations and Dates
– Moncrieff Entertainment Centre, Bundaberg QLD – Tuesday, April 7 – Bookings: (07) 4130 4100
– Civic Theatre, Townsville QLD – Thursday, April 9 – Bookings: Ticketshop (07) 4727 9797
– Civic Theatre, Cairns QLD – Friday, April 10 and Saturday, April 11 – Bookings: 1300 855 835
– Mackay Entertainment Centre, QLD – Sunday, April 12 – Bookings: (07) 4961 9777
– Gladstone Entertainment Centre, QLD – Monday, April 13 – Bookings: (07) 4972 2822
– Pilbeam Theatre, Rockhampton QLD – Tuesday, April 14 – Bookings: (07) 4927 4111
– Brolga Theatre, Maryborough QLD – Wednesday, April 15 – Bookings: (07) 4122 6060
– The Events Centre, Caloundra QLD – Friday, April 17 – Bookings: (07) 5491 4240
– The Arts Centre, Gold Coast QLD – Saturday, April 18 – Bookings: (07) 5588 4000
– Empire Theatre, Toowoomba QLD – Sunday, April 19 – Bookings: 1300 655 299
– Lismore City Hall NSW – Monday, April 20 – Bookings: (02) 6622 0300 or 1300 066 772
– Capitol Theatre, Tamworth NSW – Tuesday, April 21 – Bookings: (02) 6767 5300
– The Glasshouse, Port Macquarie NSW – Wednesday, April 22 – Bookings: (02) 6581 8888
– Civic Theatre, Newcastle NSW – Thursday, April 23 – Bookings: (02) 4929 1977
– State Theatre, Sydney NSW – Friday, April 24 and Sunday, April 26 – Bookings: 1300 139 588
– Illawarra Performing Arts Centre, Wollongong NSW – Monday, April 27 – Bookings: (02) 4224 5999
– Civic Theatre, Wagga Wagga NSW – Tuesday, April 28 – Bookings: (02) 6926 9688
– Regional Theatre, Griffith NSW – Wednesday, April 29 – Bookings: (02) 6962 8444
– Albury Entertainment Centre NSW – Thursday, April 30 – Bookings: (02) 6043 5610
– Frankston Arts Centre VIC – Friday, May 1 – Bookings: (03) 9784 1060
– Palais Theatre, Melbourne VIC – Saturday, May 2 – Bookings: 136 100
– Regal Theatre, Perth WA – Sunday, May 3 and Thursday, May 7 – Bookings: (08) 9388 2066
– Albany Entertainment Centre WA – Monday, May 4 – Bookings: (08) 9844 5005
– Mandurah Performing Arts Centre WA – Tuesday, May 5 – Bookings: (08) 9550 3900
– Bunbury Regional Entertainment Centre WA – Wednesday, May 6 – Bookings: 1300 661 272
– Capital Theatre, Bendigo VIC – Friday, May 8 – Bookings: (03) 5434 6100
– Festival Theatre, Adelaide SA – Saturday, May 9 and Sunday, May 10 – Bookings: BASS 131 246
– Playhouse, Geelong Performing Arts Centre VIC – Monday, May 11 – Bookings: (03) 5225 1200