Matthew Bourne Swan Lake 3D in Cinemas this Weekend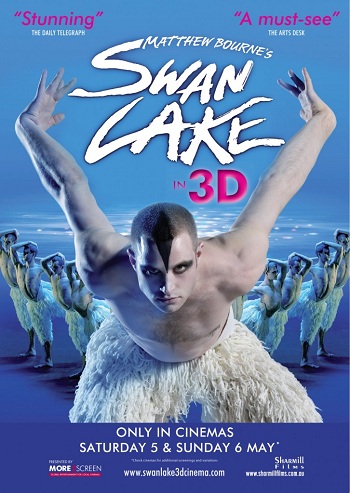 By Rebecca Martin.
3D films have taken over cinemas, with audiences demanding a more realistic cinematic experience, as well as more impressive CGI and surround sound. It's no surprise then, that dance has elegantly stepped aboard the 3D bandwagon with nationwide screenings of Matthew Bourne's Swan Lake. This modern day classic is a fitting choice for a 3D outing, given that Bourne's production turned tradition on its head and revolutionised ballet, and is now changing the way audiences view dance performances.
Initially premiering in 1995, Bourne's Swan Lake has been seen all over the world, has received more that 30 international theatre awards, and is on its way to become the longest running ballet in the West End and on Broadway. Replacing the female swans with topless male dancers, and infusing the Swan Lake story with pop culture references and regular humour, the production creates a perfect combination of ballet and contemporary in one full-length piece. Combine that with Tchaikovsky's intense and moving score, and the whole ballet comes to life once the 3D glasses go on.
Rather than being an in-your-face 3D trip, it is a more subtle experience that captures the impressive performance of the dancers, while drawing you onto the stage to witness every ruffle of every feather. A must see for dance and cinema lovers alike.
Matthew Bourne's Swan Lake 3D is screening in Australian cinemas on Saturday May 5 and Sunday May 6. To see cinema listings visit www.sharmillfilms.com.au/?p=1604