Marrugeku plans four-nation tour for 2019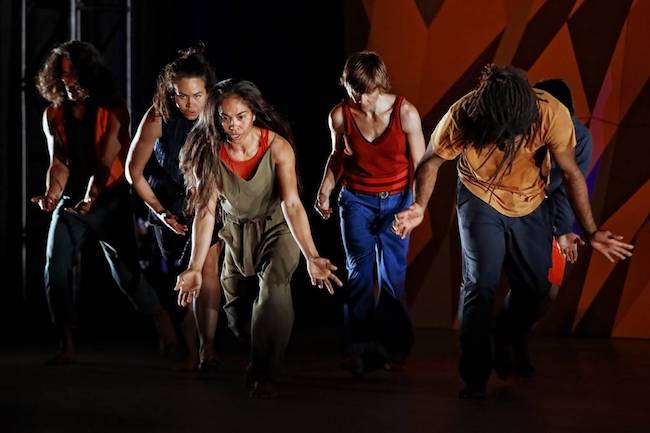 Looking back at 2018, it marked another global first for Broome-based, Western Australian dance company Marrugeku. In November and December the company toured two of its acclaimed intercultural-Indigenous dance theatre works — Cut the Sky in the USA and Canada, and Le Dernier Appel / The Last Cry in France and Belgium.
Marrugeku's General Manager Robina Burton believed this was the first time any WA performing company — possibly any Australian company — had two full-length productions on the world stage in different continents at virtually the same time. Burton called it a "great international step forward for contemporary Indigenous dance".
Marrugeku's trans-Indigenous work Le Dernier Appel / The Last Cry made its European debut in December in France at Le Théâtre Manège, Maubeuge. Within the same timeframe, it appeared at the prestigious December Dance Festival in Bruges, where Marrugeku was the only company showcasing contemporary First Nations dance even though the festival featured 14 other Australian dance companies. Next, the company returned to France where it performed the work at L'Espal, Scène Nationale in Le Mans.
Le Dernier Appel / The Last Cry is an Australian/New Caledonian co-production, commissioned to explore the impact for First Nations communities after decades of debate on constitutional recognition in Australia, and gaining independence from France in New Caledonia. Following the recent New Caledonian referendum, and with another planned in two years, Marrugeku brings Le Dernier Appel to perform on the stages of former colonial powers as an act of grassroots diplomacy that shares experiences and insights from First Nations' artists in Australia and the Pacific. The production, which has already been seen in Sydney and Nouméa, raises questions of cultural, political and personal decolonisation in both Australia and New Caledonia. Soon it'll be featured in WOMADedlaide and Dance Massive 2019, ahead of another European tour and tour to Western Australia and Canada in 2020.
Marrugeku's Co-Artistic Director Rachael Swain, director of Cut the Sky, adds, "Touring our brand of political contemporary dance theatre to other nations where First Peoples are negotiating to have their voices heard or to the homes of former colonial powers who are revising their relationship with their own colonial past is vital to the company's mission to support powerful new forms of Indigenous knowledges in contemporary dance theatre and to enable these to reach across the many borders that can divide us."
To watch a 2.5-minute promotional video of the work Le Dernier Appel / The Last Cry, head to https://vimeo.com/285966385. To see a three-minute promotional video for Cut the Sky, visit https://vimeo.com/123616185.
Below is a list of upcoming Marrugeku performances. For more information, visit www.marrugeku.com.au.
2019 Marrugeku Performances
March: Le Dernier Appel / The Last Cry at WOMAD, Adelaide
March: Le Dernier Appel / The Last Cry at Dance Massive, Melbourne
April: Creative development of Jurrungu Ngan-ga / Straight Talk, Broome
May: Burrbgaja Yalirra / Dancing Forwards at Carriageworks, Sydney
June: Burrbgaja Yalirra / Dancing Forwards tours to Mandurah and Margaret River, WA and remote Kimberley
November/December: Creative development of Jurrungu Ngan-ga, Sydney
November/December: Carriageworks Masterclass, Sydney
Photo: Le Dernier Appel / The Last Cry in 2018. Photo by Prudence Upton.
---