Marc Ribaud to lead workshop in WA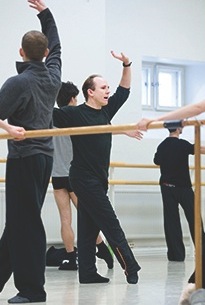 This week, Ausdance WA and West Australian Ballet will launch the Masters Workshop Series, a sequence of creative dance workshops led by some of WAB's most renowned national and international guest artists. As part of the series, participants will watch WAB's company rehearsals, and learn repertoire, choreographic technique and processes from the masters of dance worldwide. The series kicks off this Thursday, October 24 with a workshop led by Marc Ribaud, Artistic Director of the Royal Swedish Ballet in Stockholm.
Marc Ribaud's Master Workshop will be from 5 p.m. to 8 p.m. at the West Australian Ballet Centre, located at 134 Whatley Crescent, Maylands. Ribaud and participants will arrive at 5 p.m. and watch company rehearsal until the workshop starts at 6 p.m.
Ribaud has created many pieces throughout Europe, often taking traditional stories and giving them a fresh, comedic makeover. In his long career, Ribaud has danced with Bonn Opera Ballet, Basel Ballet and Deutsche Oper am Rhein in Düsseldorf.
His career as a choreographer began as he was dancing with Bonn Opera Ballet in 1988 and it became more intensive with Basel Ballet, while continuing a successful performing career in ballets by Youri Vamos, Mats Ek, Nils Christe, Judith Jamison, Heinz Spoerli and Itzik Gallili. In July 1997, Ribaud became Artistic Director of the Nice Opera Ballet and created productions such as The Nutcracker, La Fille Mal Gardée, Bolero, Romeo and Juliet, Coppelia, Cinderella and Carmen, amongst others. After his departure from Nice Ballet nearly a decade later, he worked as a guest ballet master and choreographer. He was a permanent guest Ballet Master with the Royal Swedish Ballet in Stockholm for the season 2007-2008, and became Artistic Director in July 2008.
Since July 2011, he has been working as freelance choreographer and international guest Ballet Master collaborating with the most famous companies all over the world.
For more information on Ribaud's upcoming workshop, click here. It costs $20 for Ausdance members and $45 for non-members to take his class. Since places are strictly limited, bookings are essential. Call 9214 0704 or email drobertson@waballet.com.au to secure a place.
Photo: Marc Ribaud leading ballet master class in Prague. Photo courtesy of Ausdance WA.