Lucy Doherty's 'One' tours to three cities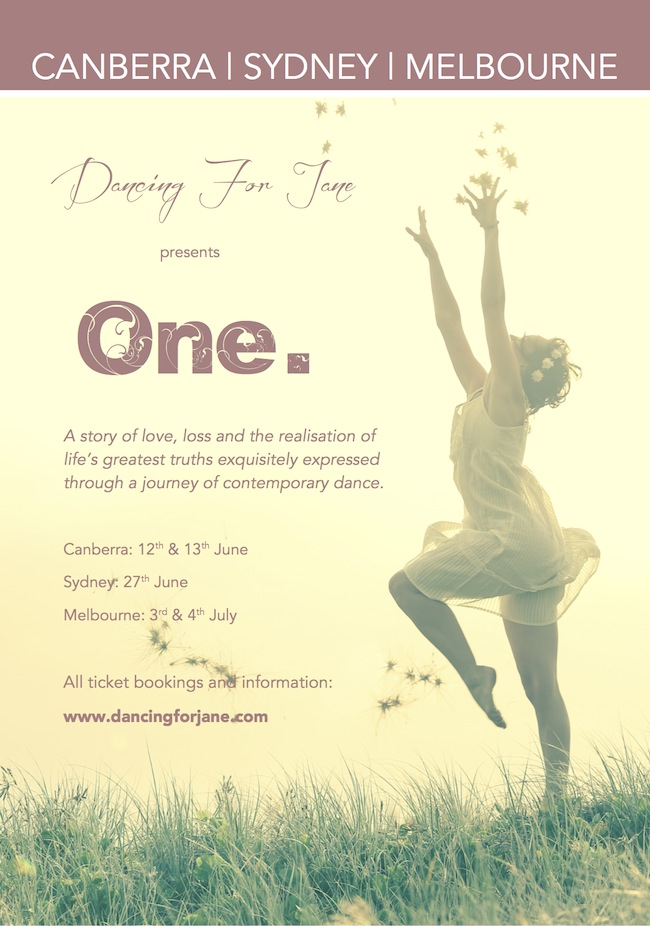 Dancer and choreographer Lucy Doherty is preparing to tour her original contemporary dance work to three major cities this year. Created in honour of individuals and families affected by cancer, One will raise money for cancer care services. Coming to Canberra, Sydney and Melbourne soon, the tour will also present workshops in each location.
For Doherty, a professional dancer who has previously worked with Paul Malek, Stephen Agisilou and Erica Sobol, this work is especially personal. It started when her mother, Jane, passed away from breast cancer at age 54 last year – explaining the origin of the initiative's name, "Dancing For Jane."
Doherty produced One through Dancing For Jane in the wake of her mother's passing, as a way to grieve and honour her. Premiering in her hometown on the Sunshine Coast, the performance united people in a special night of remembrance, celebration and healing, where dance bridged the gaps between what was inexpressible with words while also touching and uplifting those in attendance. Half of the ticket sales' proceeds were donated to Cittimani Hospice, a Sunshine Coast service that allowed the Dohertys to look after Jane at home until the end of her life. The other half of the proceeds were allotted for the tour.
Through this moving contemporary dance production, Doherty hopes to unite people in honour of the many families whose lives have been affected by cancer and at the same time, continue to raise money for different cancer care services in each city, including The Cancer Support Group ACT, RedKite and The Olivia Newton John Cancer & Wellness Centre.
Tickets for Canberra (June 12 and 13), Sydney (June 27) and Melbourne (July 3 and 4) shows are now on sale at www.dancingforjane.com, with a day of dance workshops also scheduled alongside the performances to give local dancers in each city the opportunity to dance with and learn from the cast members and choreographer.