'Les Grandes Classiques' in Darwin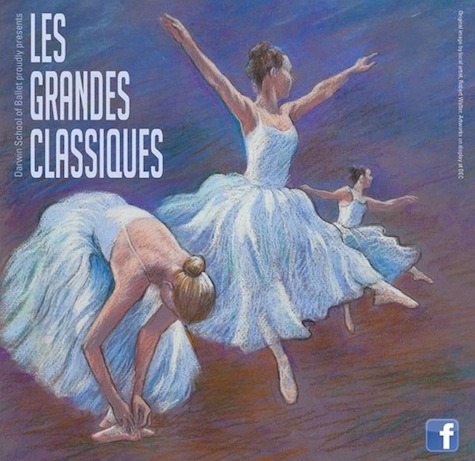 The Darwin School of Ballet will present Les Grandes Classiques on Saturday 23 November at 6:30 p.m. at Darwin Entertainment Centre. In this production, local dancers will present a tapestry of classical ballet showcasing the journey of dance from class work to audition to the final curtain bow.
The first half of the show will be a classical spectacular, with pieces from Swan Lake, The Nutcracker and La Bayadere. Audiences will catch a glimpse of what its like to grow as a ballerina, as well as witness a comedic ballet class full of personalities and an audition run by an arrogant choreographer. The dancers are set to delight and enthrall with this wonderful mix of choreography and music.
The second half of the production, entitled Movie Mayhem, encompasses musical inspiration from Broadway's Annie right through to The Lion King. This energetic, colourful and exciting set is sure to have viewers clapping away. Music and dance styles from well-known and loved movies like A Chorus Line, Chicago and Bollywood will also make an appearance.
Overall, the production Les Grandes Classiques showcases the established choreographic skills of Michele Dott, Julia Gray, Gary Lang, Joanna Noonan and Julia Quinn. It also features emerging choreographers Sharrynne Glover and Renae Mulligan.
For more information or to book tickets, visit www.yourcentre.com.au. The show will be presented for one night only in The Playhouse at Darwin Entertainment Centre. Tickets start at $15 for children and are $35 for adults.
Image courtesy of The Darwin School of Ballet.