Last audition for Dynamite Studios Academy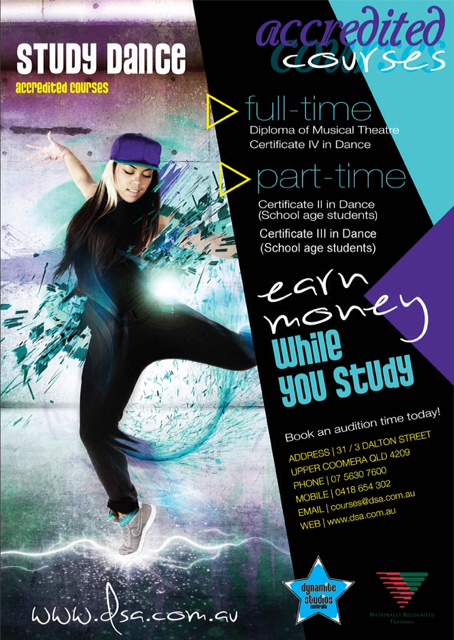 Dancers, this is your last chance to audition for the Academy at Dynamite Studios Australia! On Sunday, October 19, auditions will be held for Full Time and Part Time Courses at Dynamite Studios Academy, located in Unit 31 at 3 Dalton Street, Upper Coomera, QLD.
Dynamite Studios Academy Full Time Course options include a Certificate IV in Dance and Diploma of Musical Theatre. Part Time Course options include a Certificate II in Dance and Certificate III in Dance.
The dance auditions will be conducted as a free workshop and auditionees will be observed by DSA's Creative Director Abbe Bradbury. This will be an open audition for all courses (Full Time and Part Time) and is compulsory for all auditionees. Consideration is given to performers wishing to enter the Musical Theatre program, but a basic level of movement is required for the course and so you must attend the dance audition.
Auditions will begin at 12 p.m. and go through at least 1 p.m. in Studio 1. Registration is from 11:30 a.m., and auditionees are asked to bring a current resume. A Polaroid picture will be taken upon registration and stapled to applicants' audition forms to help DSA keep track of who's who in the workshop environment.
Furthermore, there will be a brief info session with Course Supervisor Peter Murphy from 1-3 p.m. This session will discuss Dynamite's unique approach to training and answer any questions dancers have. For those new to DSA, there will also be a quick tour of the studios.
Finally, all applicants for the 1 or 2-year Diploma of Musical Theatre will be required to undergo a vocal/acting audition after the dance workshop. These are by appointment only and can be booked by emailing Murphy at Academy@DSA.com.au. All auditionees going this route should also prepare a song (in any style) and provide a CD backing for the audition. They will also need to prepare a short monologue.
For more information or to register, visit www.dsa.com.au. Courses are filling up fast; don't miss your chance to secure a place with the Gold Coast's fastest-growing performing arts academy.