'Lake' coming to Renmark and Mount Gambier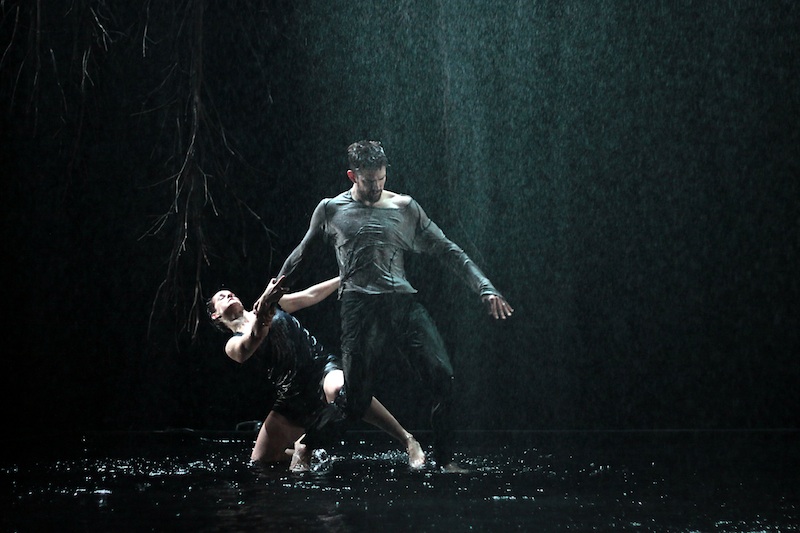 Picture this. The stage is flooded with water. A couple navigates their way through the watery terrain. Video and sound create a startling and captivating atmosphere. This is dance like you've never seen it.
Lisa Wilson's widely acclaimed independent production, Lake, brought to the Sir Robert Helpmann Theatre on April 5, and Chaffey Theatre on April 10 by Country Arts SA, is bringing a whole new experience to contemporary dance.
The stage will become an intriguing aquatic world as it is flooded with 2,800 litres of water generously donated by the City of Mt Gambier Council and by SA Water and Riverland Water in Renmark. Following the one-night-only performance, the water will be recycled and used to irrigate city parks and gardens. In Renmark, the water will be picked up by Liquid Associated Mechanical Services and recycled in the Renmark Primary School garden.
A talented trio of award-winning dancers (Timothy Ohl, Kristina Chan and Hsin-Ju Chiu) and a strong narrative executed daringly on the submerged stage is at the heart of this stunning production.
Four years in the making, Lisa Wilson says her inspiration for Lake came from the "intense beauty and chilling isolation of a lake and the primal undercurrents of what lies submerged beneath the surface".
Reflective of the rapture, despair and underlying tensions experienced in a relationship, the water also shapes the unfolding action. Causing slips and spills as the dancers daringly propel themselves across the stage in a drenched repertoire of sliding and splashing moves.
The broody set design and lighting combine to enhance these effects, creating a firework display of water with plumes and cascades of silvered spray moving through the air.
Chief Executive Officer Rob Stobbe of SA Power Networks, the principal partner of the Country Arts SA 2014 season, said Lake was a conversation starter.
"You don't tend to think thousands of litres of water when you book in to see a dance show. It's great to have people out there who are willing to put forth ingenious ideas that break the mould. I'm looking forward to seeing this creative piece in action," he said.
Country Arts SA Chief Executive Officer Steve Saffell said no one should miss this once-in-a-lifetime opportunity.
"This is a daring production that curiously combines dance and water to create a beautiful experience. You have to see it to believe it," he said.
Lisa Wilson, Timothy Ohl, Kristina Chan and Hsin-Ju Chiu will lead workshops and masterclasses in Renmark on April 8 at 11 a.m. and 4 p.m. and April 9 at 1 p.m. and 4 p.m.; and in Mount Gambier on April 4 at 1 p.m. and 4 p.m. For more information on these workshops, contact workshops@countryarts.org.au.
The Lake tour will visit Mount Gambier's Sir Robert Helpmann Theatre on April 5 at 7:30 p.m. and Renmark's Chaffey Theatre on April 10 at 7:30 p.m.
Photo by Fen-Lan Chuang.