Kristina Chan to teach at ADT Winter Intensive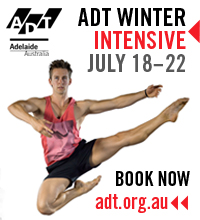 ADT have just announced that renowned contemporary dancer Kristina Chan (who danced in Birdbrain, HELD and Age of Unbeauty with ADT) will teach at this July's Winter Intensive. Chan will join esteemed faculty Gabrielle Nankivell and Chris Aubrey. The ADT Winter Intensive allows dancers to experience the creative and physical challenge of being a full time contemporary dancer at Australian Dance Theatre, one of the country's leading contemporary forces.
The ADT Winter Intensive is not to be missed! For more information visit www.adt.org.au. Register today.