Jason Coleman live from DEAS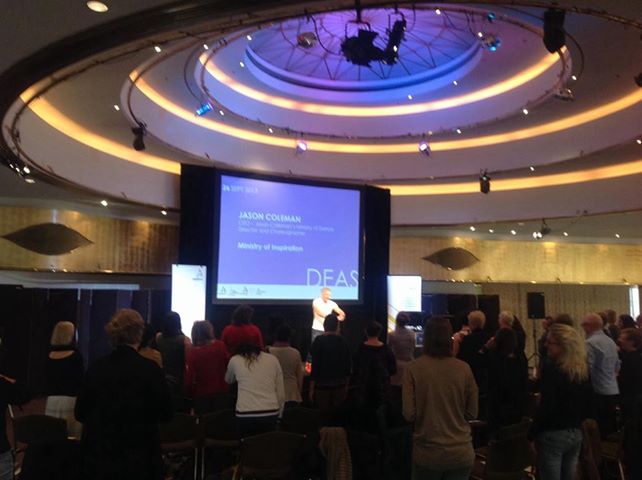 Live from the Dance Education in Australian Schools roundtable at the Arts Centre, Melbourne.

What's your 'pet peeve' about how dance is taught in schools?
My biggest pet peeve, in regard to dance being taught wrongly, is teachers and students just making shapes and those shapes having no feelings associated with them. If there is no feeling connected to the movement, it's not dancing. It's just aerobics.

What can outreach programmes learn from Ministry of Dance?
The core importance of our outreach programme is to open the eyes to the young people out there and just show them dance, to introduce them to the platform itself. If you go visit some school in a country town that's a drive away and teach 40 kids a day, if four of those kids are inspired to go on and seek all of the other benefits that you get from our dance world – mission accomplished!

The smaller the town, the more I prefer teaching in them. The more distant it is, the more fun that I personally have there, the more engaging I find it, and the more of an exchange of energy actually goes on, I think. I love getting out and teaching in the country.

Some here today have mentioned hip hop as a way to get more boys excited about dance. What do you think?
I definitely think hip hop is often a good way to sneak boys in the door. But there are boys dancing at my school who won't dance hip hop, they're not interested, so we can't rely on just hip hop. I think popular culture is the best way — I mentioned on stage that So You Think You Can Dance was a very powerful platform because boys see other boys dancing on television who look 'cool'. Being involved in the school musical, tricking the boys into it sometimes, doing a little bit of movement in class, all of that helps and then the next thing the boys know they're dancing. A little bit of movement like I demonstrated today to just wake everybody up, even that, it can help you find out who's got a bit of natural rhythm when you're teaching little kids. If you then compliment them for that, then you maybe get them on board.

It's about creating an environment in which there are no negative stereotypes associated with the dance itself – that's the other thing that's critical. So you know, don't make him put on tights and stand there making 'diamonds' with his knees in a row of little girls wearing pink leotards, right? No, that's not the environment to send him into. Find a school like mine or others out there that have a boys' class going on where the kids walk in and they've all got little trucker hats on and you know, they're all doing their thing. Kids like to be the same as each other, so you have to create a really nice comfortable environment for them.

Add your thoughts on these topics by sharing in the live discussion at Facebook.com/DanceInforma and Twitter.com/DanceInforma, hash tag #DEAS2013. Click here to find out more about joining in the discussions from home. You could win a FREE Ausdance Victoria Membership!
Photo: Jason Coleman speaking at DEAS2013.