James Batchelor's 'Island' at Dancehouse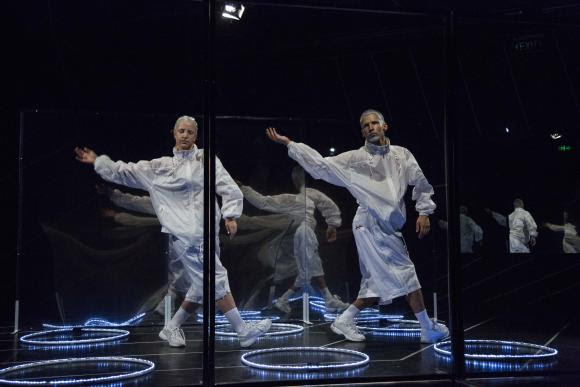 Island is a new performance installation by Canberra choreographer James Batchelor and collaborators that will be presented on June 11-15 at Dancehouse in the Melbourne suburb of North Carlton.
The work is a three-part study in space, investigating the role of structure in how we perceive and respond to our environment. Movement, sound and design aim to deconstruct the symbols that veil our perception of space and offer an alternative reading of what defines the body from its external environment.
The work is inspired by three remote islands in the Arctic and Atlantic oceans, as sites for utopian experimentation and concentrated analysis of space. The work also responds to the literature Island and The Doors of Perception by Aldous Huxley, Cinders by TE Hulme, and Black Mass and The Silence of Animals by John Gray.
Batchelor, a performer, choreographer and installation artist now based in Melbourne, is known for combining performance and visual arts to create dynamic and multisensory environments. As a performer, he has worked with choreographers such as Sue Healey (Inevitable Scenarios at Sydney Opera House and Artshouse), Antony Hamilton (Black Project 2 at Dance Massive) and Stephanie Lake (Aorta at Chunky Move). As a choreographer, his most significant work to date is the dance and media installation Ersatz, which has been developed and presented across residencies in Australia, France, Thailand and the United Kingdom.
The current 2014 Dancehouse Housemate, Batchelor has received support in creating Island. He has also gained support from Arts ACT to tour this project to the Canberra Theatre Centre. This year, he was also commissioned to create a new work on the QL2 Quantum Leap ensemble Cinders that will tour to London, Glasgow and Bangkok in July.
Thinking on Batchelor's Island, Dancehouse Artistic Director Angela Conquet shared two thoughts: "No man is an island" and "Every man can be an island."
Conquet said, "No man is an island. It was so when John Donne wrote his Meditations, it is even more so today. As life gets busier and faster, we are tightly and perversely attached to the reality mainland and escaping has become as difficult as…getting away to a secluded island. No wonder the symbolic significance of islands has always mostly sat in the territory of lost paradises; their remoteness allows a unique sense of detachment from main lands and streams, a time and space capsule often guarded as a bastion, a place where the world is ruled by contemplation and sometimes, poetry."
She continued, "The best islands, however, have always been the islands of the mind. Should they exist, they would only confirm what the imagination already knew, as some philosophers put it. When they are fictional, they become parallel worlds we carry within us. They allow us to be all that we are and choose not to be when back on the more down to earth shores. Every man can be an island. This is what one may see in James Batchelor's Island."
For more information on Island or to order tickets, visit www.dancehouse.com.au.
Photo by Lorna Sim, courtesy of Dancehouse.