Images of The Australian Ballet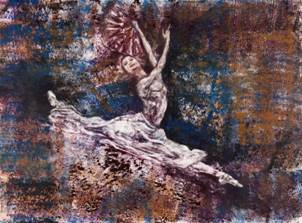 Award winning artist Debra Luccio's Images of The Australian Ballet was officially opened by David McAllister AM, Artistic Director of The Australian Ballet on March 11 and will run until April 1 at Steps Gallery, Lygon Street, Carlton South VIC.
The art exhibition will coincide with the Australian Ballet's historic 50th Anniversary celebrations in 2012. As a visual artist, Debra had the incredibly rare privilege of working with The Australian Ballet which directly inspired this new and exciting body of work. Debra is also currently working with David McAllister in creating his portrait for the 2012 Archibald Prize.
Debra's artwork has been highly collected both nationally and internationally including institutions such as the New York Public Library. In 2010 she was invited by the Australian Consulate General in New York to hold a major solo exhibition of her work 'Images of Dance – Australian and New York Dancers'.
Artwork: Debra Luccio's Reiko (2011) Monotype on Velin Arches paper 58 x 80cm (Reiko Hombo, The Australian Ballet, Stanton Welch's Madame Butterfly)