'Hot Shoe Shuffle' offers hot seats for teens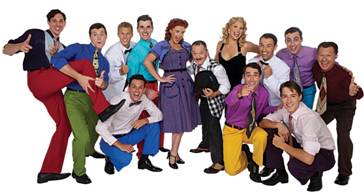 Hot Shoe Shuffle recently announced Hot Seats, a special deal allowing young patrons the chance to obtain front row seats for only $20 to the best tap-dancing musical around.
Hot Seats exclusively allows patrons between 13 and 21 years old to gain front row seats to every performance. All they have to do is visit the Box Office at QPAC on the day of the performance they wish to attend, show their ID and front row seats can be theirs for only $20! Tickets will be first-come, first-serve and will go to those best dressed. Tickets are only available to buy on the day of the show.
"When I was young, I wanted to see the musicals I loved every week," said Producer, Director and Star of Hot Shoe Shuffle, David Atkins. "We are keen to get as many young people into the theatre as possible; so why not make it easy and exciting to sit in the front row and give them an introduction to the musical theatre."
Tickets are limited to one per person and do require ID. Officials recommend bringing friends along for this exclusive front row experience. It's a great opportunity to see this exciting and fast-paced show front and centre.
Hot Shoe Shuffle is one of the most successful Australian musicals of all time. The hot and fast-paced tap dance musical comedy starring Bobby Fox, Jaz Flowers, David Atkins and The Tap Brothers is touring Australia in 2013. It kicks off on 3 May at QPAC in Brisbane.
For more information on Hot Shoe Shuffle or this special ticket deal, visit www.hotshoeshuffle.com.