Guest artists in QLD Ballet's 'Elegance'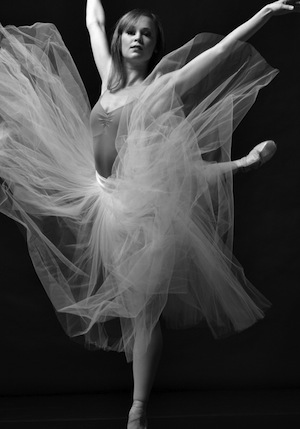 Queensland Ballet's Artistic Director Li Cunxin has announced that two special international guest artists will perform in the company's upcoming Elegance season: Jenna Roberts, Principal Dancer at Birmingham Royal Ballet, and Carolyn Judson from Texas Ballet Theater.
Cunxin comments, "The company has a long history of collaborating with international artists, and I'm thrilled our audiences will have the opportunity to enjoy the performances of these gifted dancers."
Audiences will have the chance to see Roberts and Judson perform in Elegance with Queensland Ballet's talented ensemble of dancers from 2 – 4 August at the Playhouse, QPAC.
This is Newcastle-born Jenna Roberts' first performance since leaving Australia in 2000 to train at the Royal Ballet School. "It's quite surreal performing at home for the first time. I'm excited to perform Greg Horsman's Verdi Variations – it's a really lovely piece and quite challenging. The music is beautiful and even though the style is purely classical, the comical elements in the ballet make it fun to do."
"Everyone at Queensland Ballet is lovely; the dancers have been lovely and welcoming," comments Roberts.
Carrie Judson is visiting Australia for the first time. "It's a great opportunity to work with this wonderful company and with such a talented group of dancers. I'm thrilled to be here."
Judson will be performing Ben Stevenson's Three Preludes with Queensland Ballet's Guest International Principal Huang Junshuang. "Three Preludes is one of my all time favourite pieces to perform, and dancing with Huang is great – he's a fantastic partner and very easy and fun to work with. It's such a beautiful piece that tells such a simple story of love – emotion definitely trumps technique. It's a special treat to perform this piece with live music."
Celebrating the creativity of leading choreographers from around the world, Li Cunxin has brought together four outstanding, diverse dance works in Elegance.
U.S.-based choreographer Ma Cong has joined the company in Brisbane to present his poignant and uplifting work Ershter Vals, a piece that pays tribute to the resilience of the human spirit. It is performed to music from the Jewish ghettos of World War II, and skillfully weaves classical technique with graceful folk dance influences.
Rachmaninoff's rich music sets the tone for Ben Stevenson's award-winning Three Preludes. As two dancers fall in love, the growing intensity of their relationship is eloquently expressed through lyrical, emotive dance. The score will be performed live by Company Pianist Kylie Foster and acclaimed Guest Pianist Emma Lippa (on alternating performances).
With virtuosic solos, dazzling pas de deux and ensembles, choreographer and Queensland Ballet's Ballet Master Greg Horsman's Verdi Variations pays homage to the elegance and grace of Russian classical ballet. This grand and beautiful piece enchants with gentle humour and thrilling technique.
Completing the program is a new ballet from Brisbane-based dancer and choreographer Gareth Belling. Sweet Beginnings is second in a series of works danced to the inspiring music of Vivaldi's Four Seasons, performed by innovative Brisbane chamber ensemble, Collusion.
The season's creative team includes lighting design by Matt Scott, and costume design by Resident Designer Noelene Hill.
Due to popular demand, Queensland Ballet added an extra performances to the August season. Limited tickets are on sale now to the extended season. For more information or to book tickets, visit www.queenslandballet.com.au.
Photo: Texas Ballet Theater's Carolyn Judson. Photo courtesy of Queensland Ballet.