Glitter & Dance works with 'Strictly Ballroom'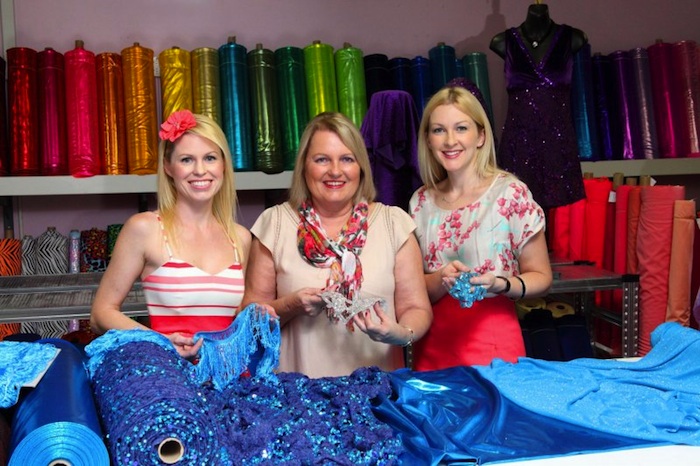 By Maryann Wright.
Strictly Ballroom The Musical is a feast for the eyes – with sequins, glitter and gold lining every inch of the stage. Fabric company Glitter and Dance has had its work cut out for it, sourcing fabrics from around the world to fulfil Oscar Award-winning designer Catherine Martin's vision. And according to the company's staff, never has more fun been had.
"Working with creative people that dare to be bold is the best thing about this job. Baz Luhrmann is so creative, colourful and vibrant, he dares where others don't," Manager Carly Vidal-Wallace said.
Glitter and Dance has worked with some of Australia's highest-profile clients including The Australian Ballet, So You Think You Can Dance and The Great Gatsby. But according to staff, Strictly Ballroom takes the cake for the sheer quantity of bright-coloured fabrics.
"Dancers are generally more conservative, so costumes like the fluro sequin green spandex jumpsuit in Strictly Ballroom was fun!" Vidal-Wallace exclaimed.
Working with Catherine Martin's design team was another highlight. Glitter and Dance was asked to source everything from handmade fringing from England to handmade buckles from New York. The most bizarre request was for a special fabric to be especially flown in from Korea. Called Mystique, it is typically a fabric that Olympic gymnasts wear. Yet, in a funny twist, the fabric is used for seat covers in the auditorium.
Glitter and Dance is a Brisbane-based family business that grew from humble beginnings. Founder Kerry Young, also Vidal-Wallace's mother, sewed costumes for her daughter's dance concerts and, before long, dance schools and dance mums were asking her to make more costumes. Fast-forward 20 years and both Vidal-Wallace and her sister Cassandra Wallace – now a professional dancer – work with their mother and have created a thriving business manufacturing costumes and selling fabrics globally.
The key to their success? "We have dance-trained staff who know what looks good on stage, what is comfortable and what fabrics are high-performance and durable," Vidal-Wallace said.
All three women enjoy going on "sourcing trips" to textile events in Paris, Los Angeles and New York where they handpick their stock. Their next trip is to the 2014 Telstra Australian Business Awards, where they will receive the Queensland Best Micro Small Business Award.
For more information on Glitter and Dance, visit http://glitteranddance.com.au. To learn more about Strictly Ballroom The Musical, visit www.strictlyballroomthemusical.com. Strictly Ballroom is currently playing at the Sydney Lyric in Pyrmont, NSW.
Photo courtesy of Glitter and Dance.