Garuda offers Teachers Training soon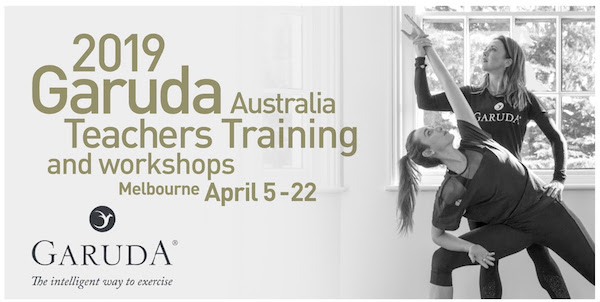 For dance professionals looking to diversify their skillset, there is a new opportunity next month to certify as a Garuda teacher in Australia with Garuda Founder James D'Silva, who's coming especially from London, and Master Trainer Anna Tetlow, responsible for national Garuda Teacher Training. The 2019 Garuda Teacher Training Qualifications and Professional Development Workshops will be held in Melbourne from April 5-22. (See schedule listed below.)
New to the Garuda Method? It offers a cardiovascular workout while teaching relaxation in movement. Of its benefits, it leads to greater strength, better posture, increased ease of movement, a focused mind and encourages a compassionate, non-judgmental spirit. "Garuda" is known in Indian mythology to be a large sacred bird that changes its form according to its function. D'Silva, a former dancer who had practiced Pilates and yoga throughout his career, chose "Garuda" for the name of his movement system, which he believed to be unique in its versatility, flexibility, flow and precision of movement.
D'Silva has worked with Tetlow for 20 years, teaching Garuda, Pilates, dance and movement physiology internationally.
"Garuda is an accumulation of my life's work and Anna has been loyal to teaching Garuda across the globe. She is a master trainer of Garuda and is responsible for Garuda Australia and the teacher trainings in Australia," D'Silva said.
On how they met, D'Silva commented, "She was my first teacher and I mentored her after a foot injury had forced early retirement from her own international professional career as a ballet dancer. As our work continues to align itself with both dance and rehabilitation it is natural transition that Anna continues mentoring teachers herself so maintaining the same professional progression. Quality Teachers Training takes deep understanding, many years of experience and dedication to passing on knowledge to the next generation of teachers and is of the upmost importance."
For more information, call 0438 595 792, email enquiries@annatetlowpilates.com.au or visit Anna Tetlow Pilates at www.annatetlowpilates.com.au/teachers-training.
Garuda Bootcamp: April 5 – 6, 13, 10am – 5pm
Garuda Inspiration Workshop: April 7, 9am – 1pm
Garuda Apparatus A: April 7 – 12, 2019, 2pm – 6pm
Garuda Barre Foundation: April 14-19, 2pm – 6pm
Garuda Pilates Matwork: April 14-19, 9am – 1pm
Garuda Bootcamp: April 21 – 22, 9am – 1pm
Garuda Brick (Graha): April 20 – 22, 2pm – 6pm
---