Flexible Industry Training at The Space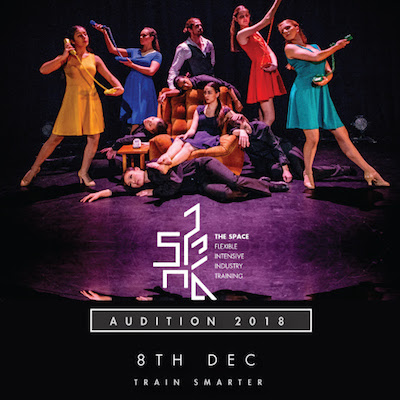 The Space Dance & Arts Centre in Melbourne has announced auditions for Friday, December 8 for its Flexible Intensive Industry Training (F.I.I.T.) programme, a new and exciting addition to the Melbourne professional dance training scene.
Register to audition at thespace.com.au/fulltime. The audition is set for 10 a.m. Students who cannot make this live audition can submit video footage to The Space.


Running from 9:30 a.m. to 12:45 p.m. Monday to Friday, F.I.I.T. consists of training in Ballet, Contemporary, Jazz, Commercial, Physical Conditioning and more. Since the programme doesn't require students to dance 8-10 hours a day like other courses, students have time and energy for the gym, plus other fitness and flexibility work.
For those students with more availability, vigor and inclination, they can pay full fees up front and have unlimited access to all of The Space Dance & Arts Centre's casual dance classes - including over 80 additional classes a week in a huge variety of styles and levels.
F.I.I.T is for a variety of dancers seeking to improve, from professional dancers who have completed significant training elsewhere and want to improve and maintain technique, flexibility, strength and overall dance ability, to singers and actors who want to improve their dance level and fitness. Pre-professional dancers wanting to bring their level up to a professional standard are also a perfect match.
There are three training options. First, the entire programme for the year plus unlimited classes from The Space casual class timetable (for upfront payment, exclusions apply.) Second, per term training. Train for one term or pay for each term as you go. Third, opt in for nationally recognised accreditation. Students working towards accreditation will do additional coursework one afternoon per week. Accredited courses include CUA40113 Cert IV in Dance (Elite Performance) and CUA50113 Diploma of Dance (Elite Performance).
For more information, visit www.thespace.com.au/fulltime.
Additionally, The Space is excited to have nearly finished its brand new studio, Skydeck! The dance community can help support The Space in fitting out Skydeck by visiting its Pozible campaign at https://pozible.com/project/deck-out-the-skydeck. In return for donations, The Space is offering some amazing rewards such as unlimited classes, studio hire, performance space hire and more at heavily discounted rates.
---