First World Ballet Day on October 1!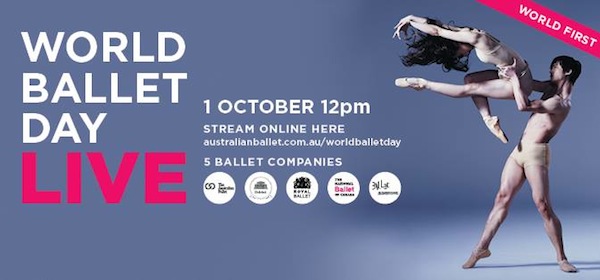 Newly inaugurated, the first World Ballet Day on October 1 will be celebrated with the live streaming of five of the world's major ballet companies. The Australian Ballet, Bolshoi Ballet, The Royal Ballet, The National Ballet of Canada and San Francisco Ballet will each present a four-hour slot showing life behind the scenes in the daily running of a ballet company.
Beginning in Melbourne, the streaming will travel across the time zones to Moscow, London, Toronto and San Francisco, and can be viewed on the companies' websites and YouTube. This unique collaboration will mark the first time that YouTube has streamed live more than eight hours of content.
The Australian Ballet's section of the live stream broadcast commences at 12 p.m. (AEST) on Wednesday, October 1, 2014.
"We are proud to be launching the World Ballet Day LIVE stream, before handing across to our partners as the broadcast follows companies, cultures and time zones around the globe," states the company's website.
Aussie dance enthusiasts hoping to tune in should go to www.australianballet.com.au/worldballetday or view the 20-hour live stream on YouTube. The public is also invited to follow The Australian Ballet on Twitter, Facebook and Instagram to get updates on the event, including the full schedule, participants and how they can get involved.
Also, to celebrate World Ballet Day, The Australian Ballet will be running a free morning of ballet-style classes on the main stage at Federation Square, Melbourne. Classes will be led by legendary former principal artist Steven Heathcote from 8 a.m. to 10 a.m. Heathcote recently returned to the company as ballet master and repetiteur. Dancers from leading performing arts schools across Melbourne will be participating.
"Come along to support the dancers, celebrate the opening of World Ballet Day LIVE, and enjoy a rare and exclusive insight into the world of ballet," concluded the company's website.
If you do get involved in World Ballet Day, be sure to post pictures and use the hashtag #worldballetday!
The full schedule for World Ballet Day is as follows:
– The Australian Ballet: October 1 at 12 p.m. (AEST)
– Bolshoi Ballet: October 1 at 4 p.m. (AEST)
– Royal Ballet: October 1 at 8 p.m. (AEST)
– National Ballet of Canada: October 2 at 12 a.m. (AEST)
– San Francisco Ballet: October 2 at 4 a.m. (AEST)