Finding Flow, a workshop series for those who are curious about The Feldenkrais Method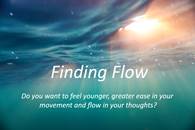 Summer is on its way and in Perth Western Australia they are finding ways to be creative and thrive through COVID. Finding Flow is a workshop series running this October for those of you who are curious about discovering the benefits of The Feldenkrais Method.
The series is designed to introduce the principles of The Feldenkrais Method and give an experience of both small group Awareness Through Movement lessons and individual hands on Functional Integration so that you can experience the full range of what Feldenkrais has to offer.
"I felt like I was being poured into myself." L McLeod
The cost is $200 for people on a wage and for Student/concession it's $150.
For further information visit: www.spacetomove.com.au
Bookings: https://www.trybooking.com/BLGJU