Extravagant 'Aida' opening in Sydney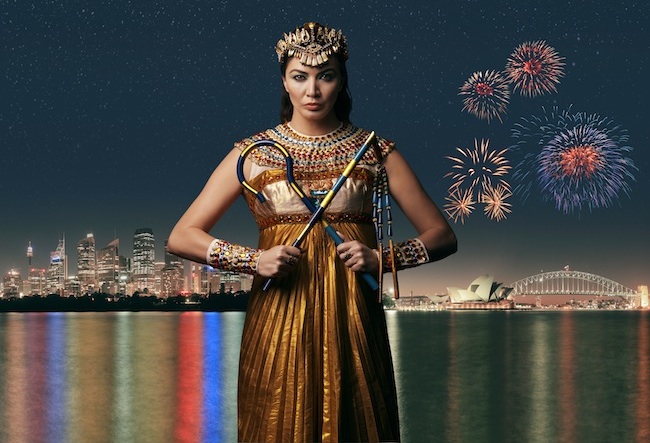 Handa Opera on Sydney Harbour will present Aida, one of Sydney's most spectacular events to date, from March 27. The fourth year of Opera on Sydney Harbour is set to be the biggest yet with the season extended to a month. The show features the full Opera Australia Chorus on stage together with international singers and dancers and a magnificent live orchestra beneath.
Audiences will enjoy the entire opera-themed experience of Handa Opera on Sydney Harbour, with its comfortable harbour-side seating, wide range of on-site dining and drinking options, magnificent harbour views and lavish, fully staged opera featuring nightly fireworks. The stunning "Platinum Club" – a pop up dining room and bar set amongst the tree tops – will again offer fine dining before the show, as well as drinks at interval.
The Handa Opera on Sydney Harbour stage is unlike any other in Australia. It is almost two and a half times larger than any indoor theatre stage in the country, visible from 360 degrees (great sneak peeks for ferry travellers!). With no backstage areas, wings or rigs, and utilizing a very steep slope – to ensure premium visibility for all guests – it presents a mighty task for designer Mark Thompson.
"The real challenge for a production on this scale," Thompson said, "is to retain the private and intimate exchanges in the love scenes, while saturating the senses during the famous Triumphal March, and wrenching as much emotion as possible from the finale!"
With a wealth of experience gleaned from designing over 60 major theatrical productions and work for many major events (including Sydney's NYE celebrations), Thompson is sure to deliver a spectacle that packs a punch emotionally and aesthetically.
The Aida cast includes African American soprano Latonia Moore as the captured Aida in a foreign land. Moore is a regular performer at The Met in New York, and has performed the title role of Aida to vast acclaim across the globe (including Sydney Opera House in 2012). Alternating in the role is Italian soprano Daria Masiero, who is well known to Sydney audiences from her performances at the Sydney Opera House in recent years.
Model-turned-soprano Milijana Nikolic, who dazzled in the role of Carmen in 2013, will make a welcome return to the water-top stage in the role of Princess. Helpmann Award-winning singer Jacqueline Dark alternates in the role, bringing her own unique depth and dynamism to the character. Sharing a magnetic stage presence, Nikolic and Dark will bring heightened drama to the love triangle at the centre of Aida.
Two renowned international tenors will also star in the production, Italian Roberto Aronica making his debut with Opera Australia, and American Arnold Rawls, who performed with the company in 2013.
Lyndon Terracini, artistic director of Opera Australia, said "Aida is the ultimate grand opera, and we hope this spectacular new production designed for this unique outdoor setting will delight more visitors than ever in 2015. There is simply no better way to experience this harbour side city!"
Aida runs from March 27 to April 26. For more information, visit www.opera.org.au.
Photo: Milijana Nikolic will play Princess Amneris in Aida. Photo courtesy of Opera Australia.