EDC to tour 'R&J' across Australia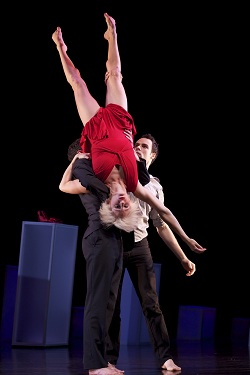 Expressions Dance Company's award-winning R&J hits the road in April for an 18-venue tour throughout Queensland, New South Wales, Victoria and Tasmania. Choreographed by Natalie Weir, R&J presents three original tales inspired by the greatest love story ever told.
"This production reinforces the notion that love, no matter what age you are, or what era you are in, is eternal and its power, everlasting," Weir said.
Set across three different eras, and telling three different versions of events, EDC turns the classic story of William Shakespeare's Romeo and Juliet on its head, cutting to the essence of what is real, human and inevitable.
As the winner of Outstanding Achievement in Choreography at the 2012 Australian Dance Awards, R&J showcases powerful and meaningful contemporary choreography. With music composed by John Babbage and recorded by prolific music ensemble Topology, R&J celebrates contemporary performance at its most bold and powerful.
The tour is managed and coordinated by arTour, an initiative supported by the Queensland Government through Arts Queensland. It will first visit Theatre Royal in Hobart on 26 and 27 April, and from there, visit Burnie Arts and Function Centre, West Gippsland Arts Centre, Warrnambool Entertainment Centre, The Capital Bendigo, Mildura Arts Centre, Wagga Wagga Civic Theatre, Queanbeyan Performing Arts Centre, Riverside Theatre Parramatta, Cessnock Community Performing Arts Centre, Glasshouse Theatre and more. Touring will continue through 8 June, ending at The Arts Centre Gold Coast.
For a full list of locations and dates for the R&J tour, visit www.expressionsdancecompany.org.au.
Photo: Expressions Dance Company's Riannon McLean, Richard Causer and David Williams performing R&J. Photo by Fiona Cullen, courtesy of EDC.