Don't miss these Cruise Line Auditions!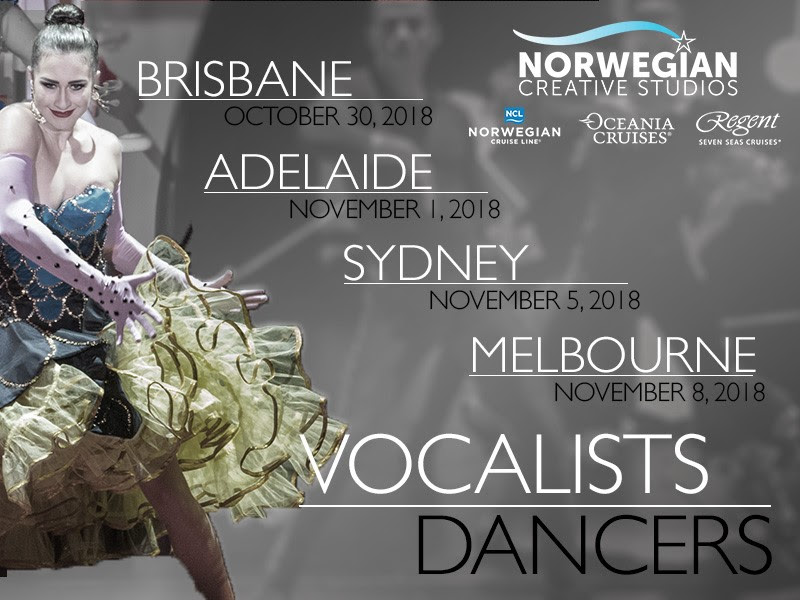 Get ready! Officials from Norwegian Creative Studios will be back in Australia in a matter of days! In case you missed our first announcement, they'll be auditioning in Brisbane, Adelaide, Sydney and Melbourne! See the dates and locations listed below.
Dancers and singers are welcome to audition for all shows produced by Norwegian Creative Studios on Norwegian Cruise Line, Oceania Cruises and Regent Seven Seas Cruises.
Norwegian Creative Studios is committed to elevating at-sea entertainment and seeks to deliver A-list productions. Current shows were directed and choreographed by renowned professionals like Chase Benz, Warren Carlyle, Mark Kanemura, Tiger Martina and Patti Wilcox.
Norwegian proudly offers competitive salaries, professional working environments and the thrill of cruising to some of the world's most beautiful vacation destinations.
Visit www.norwegiancreativestudios.com/auditions.html for more information. Register for one of these auditions online today!
Brisbane
October 30, 2018
Mad Dance House
2/43 Adelaide St, Brisbane City QLD 4000
Dancers and Vocalists
9:30 a.m. Dancer Sign-In
2:30 p.m. Vocalist Sign-In
Adelaide
November 1, 2018
Australian Company of Performing Arts
37 Walsh Street, Thebarton, SA 5031
Dancers ONLY
9:30 a.m. Sign-In
Sydney
November 5, 2018
The Opera Centre
480 Elizabeth St., Surry Hills, NSW 2010
9:30 a.m. Female Dancer Sign-In
12:30 p.m. Male Dancer Sign-In
3:30 p.m. Vocalist Sign-In
November 6-7, 2018
*Special Auditions for Vocalists and Actors for Priscilla Queen of The Desert
* Email spencer@lisacampbellcasting.com for more information
Melbourne
November 8, 2018
Ministry of Dance
Level 1, 64 Sutton St., North Melbourne, VIC 30510
9:30 a.m. Female Dancer Sign-In
12:30 p.m. Male Dancer Sign-In
3:30 p.m. Vocalist Sign-In
November 9-10, 2018
*Special Auditions for Vocalists and Actors for Priscilla Queen of The Desert
* Email spencer@lisacampbellcasting.com for more information
---