'Dirty Rotten Scoundrels' extends to December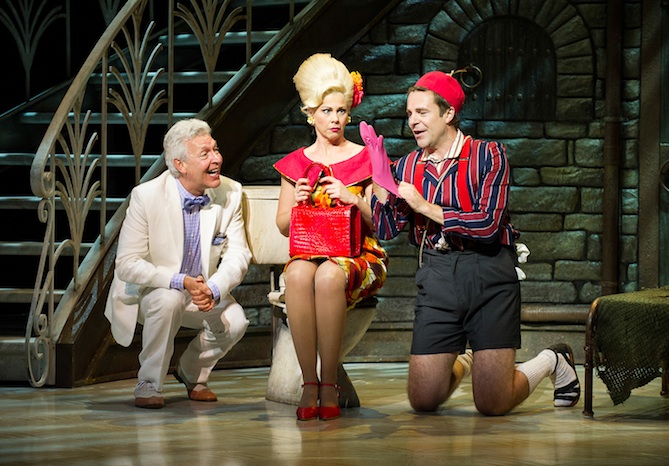 Due to popular demand and wide-spread critical acclaim, producer George Youakim has announced that the season of the devilishly cheeky, fun-filled Broadway musical Dirty Rotten Scoundrels has been extended to December 8 at Sydney's Theatre Royal.
The Sunday Telegraph called the musical "a delight from start to finish – simply a joyous night of perfectly cast, laugh-out-loud musical comedy," and Aussietheatre says, "This production gets everything right… a reason to leave the house and go to the theatre… Go and see it. It will make you happy."
Leading the exemplary cast are Tony Sheldon as Lawrence Jameson and Matt Hetherington as Freddy Benson, the two rival conmen on the French Riviera. Christine Colgate, the naive American heiress targeted by Lawrence and Freddy, is played by Amy Lehpamer, while John Wood plays Lawrence's associate Andre Thibault. Two of the women conned by the pair, Muriel Eubanks and Jolene Oakes, are played by musical theatre favourites Anne Wood and Katrina Retallick.
Directed by Roger Hodgman, musically directed by Guy Simpson and choreographed by Dana Jolly, with sets by Michael Hankin, costumes by Teresa Negroponte and lighting by Nicholas Rayment, this laugh-a-minute romp is fast becoming the surprise hit musical of the year. Based on the highly successful and much loved 1988 film starring Steve Martin and Michael Caine, with music and lyrics by David Yazbek and book by Jeffrey Lane, Dirty Rotten Scoundrels was nominated for 11 Tony Awards, including Best Musical, and 10 Drama Desk Awards.
For more information on Dirty Rotten Scoundrels or to book tickets, visit www.dirtyrottenscoundrels.com.au. New performances are now on sale.
Photo: Tony Sheldon, Katrina Retallick and Matt Hetherington in Dirty Rotten Scoundrels. Photo by Kurt Sneddon.