Dancing coins celebrate ballet anniversary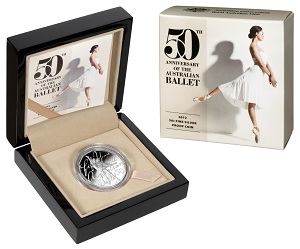 The refined art of ballet has been captured forever through the exquisite art of coin design thanks to the release of two collectible coins to mark the 50th anniversary of The Australian Ballet.
The Royal Australian Mint has partnered with The Australian Ballet in its latest commemorative coin release which brings the art of ballet to coin form in a highly detailed design developed by Mint coin designer Aaron Baggio. The design was inspired by an image by photographer Liz Ham of Olivia Bell and Adam Bull, principal artists of The Australian Ballet.
"Over the past 50 years, The Australian Ballet has left an indelible mark on Australia's cultural history and has some fascinating stories to tell," said Mr Ross MacDiarmid, Chief Executive Officer of the Royal Australian Mint.
"The Mint plays an important role as caretaker of Australia's cultural history, and hopes that in commemorating this anniversary on these coins, they will serve as a medium for those stories," Mr MacDiarmid said.
The brilliance and unmistakeably Australian style that typifies The Australian Ballet are immediately recognisable in the coin's design, and ballet enthusiasts looking for a way to join in celebrating this fantastic cultural milestone will be glad to find that the design is available on both a silver and cupro nickel coin.
"It's a real thrill for our anniversary to be commemorated in such a special and long-lasting way; its recognition of the importance of an art form that has a long, proud and rich history in Australia; said Mr David McAllister, Artistic Director of The Australian Ballet.
"We hope lots of children around Australia who dance each week will be excited to collect their very own piece of The Australian Ballet!," Mr McAllister said.
Those wishing to purchase one of the 2012 50c 50th anniversary of The Australian Ballet coin can do so by visiting www.australianballet.com.au/shop or contacting the Royal Australian Mint Call Centre on 1300 652 020.