Corner Dance Lab returns this month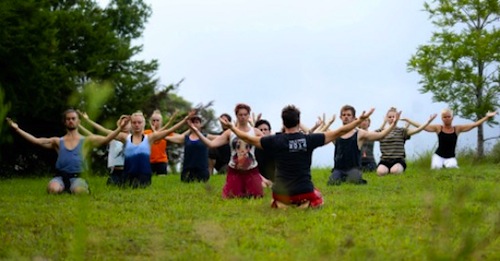 After a successful and meaningful first year, Dance Integrated Australia and The Farm are excited to bring back the Corner Dance Lab this month for the second year to beautiful Federal in northern New South Wales.
The artistic lineup for the 2015 Corner Dance Lab includes Phil Blackman, Sean Campbell, Philip Channells, Hsin-Ju Chiu (Raw), Ben Ely, Kate Harman, Julian Louis, Kimberly McKintyre, Lee-Anne Litton, Kellie O'Dempsey, Timothy Ohl, Sarah-Vyne Vassallo and Gavin Webber.
"As an independent artist who grew up in Byron Bay, it was my immense pleasure in returning to the region to participate in The Corner Dance Lab," stated Harrison Hall following participation in 2014. "Having the opportunity to work with a number of world-renowned leaders in dance and physical theatre, amongst such an inspiring and rich natural landscape made this experience unbeatable."
The program, scheduled for January 16-24, welcomes people of all ages with and without disability, including tertiary dance students, graduates, emerging choreographers, professional artists, physical performers, dance educators, community arts practitioners, disability sector personnel and people who want to challenge themselves to work in an inclusive dance environment.
The Corner Dance Lab will consist of daily classes, performance and choreographic workshops, open showings and improvisations, and a final performance event.
"Last year's Corner Dance Lab left a huge impression on everyone that was involved. If you have the idea that dance goes beyond a series of steps or a technical exercise, then The Corner is for you!" said Webber.
For more information, visit http://philipchannells.com/the-corner. To request further details, call Philip Channells on +61 432 073 304.
Photo: Participants at the inaugural Corner Dance Lab in January 2014. Photo by Tim Standing.