Come Together Dance Convention 2019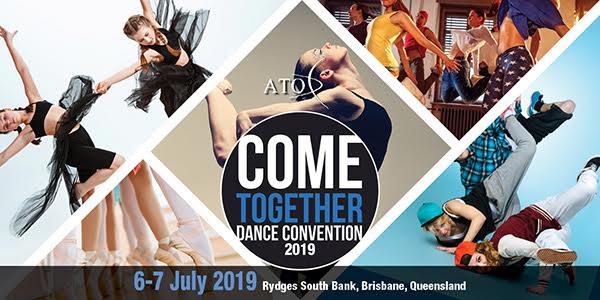 Come Together Dance Convention, designed for dance teachers, studio owners and students, is a professional development dance industry event held across two days at Rydges South Bank, Brisbane on 6-7 July. Featuring 12 teacher presenters and eight student workshops supported by dance industry exhibitors and partners, this convention provides participants with opportunities and tools to grow and learn during practical education sessions.
Dance industry national and international leaders will ensure teachers and studio owners leave with the passion, confidence and inspiration to take their dance career to greater heights! Students will experience industry-best dance instructors in a variety of genres during the Dance Arena workshop programme.
Speakers include Tricia Gomez – International Keynote Speaker, Global Director of Rhythm Works Integrative Dance and creator of the popular Hip Hop in a Box; Mark Pace – Professional Dancer and Dance Academic; Tim Buckley – Dance and Acrobatic Physiotherapist working exclusively with elite ballet dancers, circus artists and orchestral musicians; Paul Malek – Artistic Director of Australian Arts Organisation and director of Transit Dance; Jane Grech – Dance Studio Owner, Writer, Speaker, Thought Leader; Neale Whittaker – Dancer, Choreographer, Hip Hop, Contemporary, Phly Crew; Amy Lehpamer – Professional Musical Actress, currently playing Principal, Rosalie Mullins in School of Rock; Danielle Lennon – CEO of Lennon Circus and Entertainment Pty. Ltd and The Studio of Performing Arts, Springfield; Mark Wilson Professional Dancer and Entertainer, past guest judge on Dancing with the Stars; Stacey Morgan Dance Educator and Principal of Port Macquarie Performing Arts; Sally Harrison Senior Physiotherapist for dancers at Perfect Form Physiotherapy in Sydney, creator of Strength4dance; a strength training and education platform for the dance community.
Kate Meade will once again join Come Together Dance Convention as MC and will contribute to the Panel of Experts discussion.
Leading the student workshops are Mega Jam (Commercial Street Dance, Hip Hop, YouTube sensations), Neale Whittaker (Contemporary, Hip Hop, Phly Crew), Jessica McLaughlin (Acro Arts), Kim Adam (Lyrical, choreographer), David Williams (Dancer, Principal Artist, Choreographer), JW Murray (Choreographer, Tap, Hip Hop, Live Entertainer), Pep Rigano (Hip Hop, Urban, Jazz Fun, Commercial Dance) and Kirsten King (Choreographer, Musical Performer, Musical Theatre).
In 2018, delegates said, "I loved the connections I made and the way everyone was willing to give you the information you needed." "The networking and good dance practice was promoted and supported." "This convention always leaves me feeling so inspired. I can't wait until the next one." "I loved all the amazing speakers and coming together and meeting new people who have the same vision and passion for dance!"
Everyone who registers for two days of Come Together Dance Convention will go into the draw to win a Prize Certificate to the value of US $399 to attend a RHEE GOLD Dance Teacher event (valid until end 2020). In addition, TP World Tours will sponsor the flight. This prize is offered to everyone who registers by FRIDAY 21 JUNE.
You can register now at www.atod.net.au
Image courtesy of ATOD