Cirque du Soleil's NYC Open Audition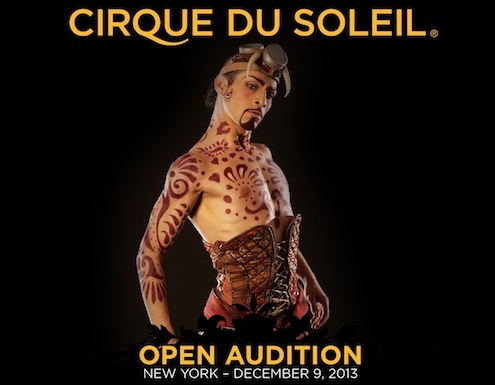 Cirque du Soleil is urgently seeking a professional male dancer for an immediate contract for the resident show The Beatles: LOVE in Las Vegas.
The creator requires a male dancer of European heritage who is 5' 10'' or above with strong hip-hop technique, including popping, b-boying and krumping. Dancers should be able to perform acrobatic elements and confidently be able to rock the stage. Performers with solid stage presence, a rock star attitude and loads of charisma are invited to come audition.


The open audition will be at Chelsea Studios in New York City on Monday, December 9. Chelsea Studios is located at 151 West 26th Street #5 in New York. Audition registration starts at 2 p.m.
All candidates must be 18 years of age or older and should bring a photo and a resumé. Appropriate attire is required and auditioning dancers should bring their own music to perform their own two-minute piece. Candidates that arrive after 3 p.m. will not be admitted.
For more information, email auditions.lasvegas@cirquedusoleil.com or visit CIRQUEDUSOLEIL.COM/JOBS.