Chunky Move intensive underway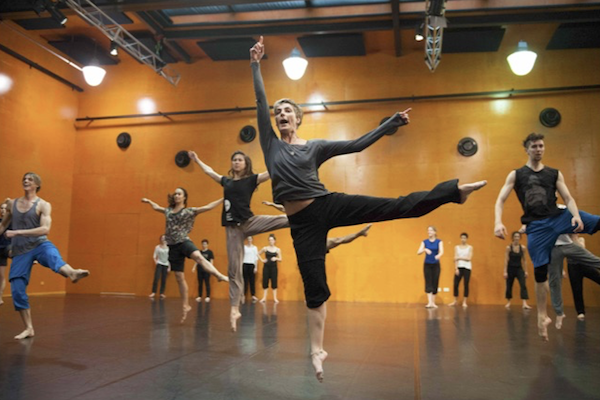 Forty dancers from New Zealand, USA, Canada, Singapore, Hong Kong and across Australia are in Melbourne through July 10 participating in "One Body, One Career", a two-week period of exchange and learning curated and designed by Chunky Move Artistic Director Anouk van Dijk and taking place at Chunky Move Studios.
This is the third year that "One Body, One Career" has been taught in Melbourne. It previously took place in Europe, commencing in 2006. Curated and designed by van Dijk, it introduces dancers to van Dijk's movement system and training method, Countertechnique. It offers two weeks of exploration and knowledge building for those who want to look further into the demands and physical implications of pursuing a long, healthy and successful career in dance.
Anouk van Dijk said, "The name of the intensive – 'One Body, One Career' – was inspired by the very nature of being a dancer and the fact that you depend on your body for your career. I developed Countertechnique to help dancers think about their body differently, allowing them to pursue their career for a longer period and in a more fulfilling way. Since it's beginning in 2006, 'One Body, One Career' has been a huge success in Europe and I'm delighted we have been able to bring it to Melbourne, making it more accessible to dancers here in Australia and the Asia Pacific."
"Not only does 'One Body, One Career' allow dancers to explore Countertechnique in-depth by working with international expert practitioners like Nina Wollny and Tom Koch," van Dijk continued, "it also brings dancers together from all over Australia and overseas, offering unprecedented opportunities to meet, work together and exchange experiences."
The intensive is taught by van Dijk along with long-term collaborator and Master Countertechnique Teacher Nina Wollny, who has flown in from Europe to teach, and American Alexander Technique expert Tom Koch, who has also travelled to Australia for the workshop. Koch has worked with professional dancers across Europe and America, including extensively with dancers from the Forsythe Company and Nederlands Dans Theater.
By the end of the intensive, participants will have acquired a set of practical tools, which they will be able to draw from and apply in their ongoing dance practice.
A previous participant said, "Countertechnique is such a revelation for my body and way of moving." Another exclaimed, "I have a whole new physical understanding of my body. I feel like I am on a roller-coaster when I am dancing but that I can choose where I want to go when using Countertechnique."
To learn more, head to http://chunkymove.com.au.
Photo: Anouk van Dijk teaching at a previous intensive. Photo courtesy of Chunky Move.