Chris Dyke visited Dancenorth for secondment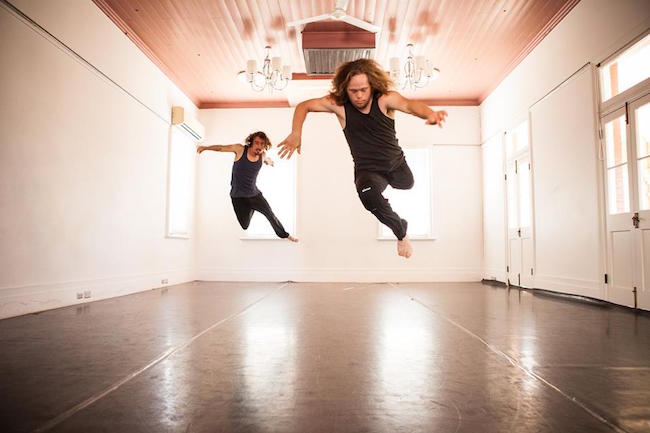 In the first professional dance secondment of its type in Australia, Townsville hosted South Australian dancer Chris Dyke at Dancenorth in May. Dyke, who has Downs Syndrome, visited from Adelaide-based Restless Dance Theatre. He described the opportunity as "a dream come true."
During his secondment, Dyke choreographed a new solo work with guidance from his mentor, Dancenorth Artistic Director Kyle Page. He trained with the company each day and watched dancers rehearse for their upcoming performance of Thread.
Dyke's secondment fell in line with one of Dancenorth's goals – to develop a range of programs to provide people of all abilities the opportunity to engage with the company in a welcoming environment.
Coralee O'Rourke – Minister for Disability Services, Minister Assisting the Premier on North Queensland and Member for Mundingburra – said the dance exchange was a fantastic initiative.
"I'm pleased to welcome Chris to our beautiful city," O'Rourke said. "I am sure he learnt a lot from his experience and will have great stories to take back with him to Adelaide."
"Chris is a very talented dancer and an inspiration to dancers and people with disability everywhere. It is a pleasure to watch him perform," O'Rourke continued.
"This initiative shows that people with disability can achieve anything they want, and should have the same opportunities in life as everyone else."
Dyke's mum, Jacqui Hunt, said he had always wanted to be a professional dancer.
"We have noticed a great leap in Chris's development since he began working with Kyle, this is clear with the high profile commissions Chris has completed," she said.
"Chris has worked on a music video, he has a solo film premiering in June and has been on Sunrise. He is an inspiration to a lot of people with disabilities," she added.
Dyke's mentor, Kyle Page, said it was important to have these opportunities and to highlight successes like this. "Chris and I have known each other for years and working together is a rich exchange of ideas and learning for both of us," he said.
"Dancenorth is developing a disability action plan to ensure that we look at ability first and not disability to create an inclusive environment filled with genuine collaboration and opportunities for all abilities," he said.
Restless Dance Theatre Company Artistic Director Michelle Ryan said Restless began in 1991 as the first inclusive dance company, and now had a youth ensemble of 11 dancers.
"The secondment is a fabulous opportunity for Chris and Dancenorth to work together," Ryan said. "Chris and Kyle connected through their work at Restless Dance Theatre and it will be exciting to see what develops in Townsville with Dancenorth. It is wonderful to see two blokes communicating through dance."
For more information on Dancenorth, visit http://dancenorth.com.au.
Photo: Kyle Page with Chris Dyke. Photo courtesy of Dancenorth.