Choreographers converge in Perth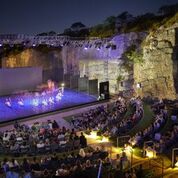 As West Australian Ballet enter their 27th year performing at City Beach's Quarry Amphitheatre, three internationally acclaimed choreographers each present works in Light and Shadow: Ballet at the Quarry as a part of Perth Festival for 16 performances from 7 – 29 February.
Krzysztof Pastor, Graeme Murphy AO and Wubkje Kuindersma have each earned international acclaim and awards for their work. This esteemed line-up marks over three years of programming from Artistic Director Aurélien Scannella.
"This year, Ballet at the Quarry will host a line-up that will have dance-lovers and newcomers in awe", said Scannella, "We have been lucky enough to experience Krzysztof's Dracula (2018) so I really wanted to show another side with his incredible contemporary work".
"Graeme Murphy is an Australian dance icon, and it's thrilling to welcome him back to West Australian Ballet, and Wubkje Kuindersma is an exciting talent that has fast established herself one of Europe's great choreographers".
Pastor now brings In Light and Shadow to Perth, set to the sounds of Johann Sebastian Bach, the work begins in 'shadow' with an intimate pas de deux, followed by the 'light' where a large ensemble takes to the stage to Bach's Orchestral Suite for a joyous and grandiose finale. In Light and Shadow has been performed in seven countries after its premiere in 2000 for Dutch National Opera and Ballet.
After previously working with West Australian Ballet dancers in 1988 for national dance event VAST, Murphy, the former Artistic Director of Sydney Dance Company (1976 – 2007), is restaging a section of his 1999 hit Air and Other Invisible Forces with West Australian Ballet to perform an extended section of the work at the Company's new STATE season at the Heath Ledger Theatre in June. The hauntingly beautiful work was performed in New York at The Joyce Theater for six sold-out performances.
Murphy has described the work as being about the intangible qualities of 'Moving on and letting go. Journeys with unknown endings, doors that open onto nothingness, chance encounters that change everything and consequently everything before'.
The final work presented at the iconic Quarry Amphitheatre in February is Kuindersma's Architecture of Hope, which is a highly touted co-production with one of the world's leading exponents of dance, Dutch National Opera and Ballet. In a further coup for West Australian Ballet, the creation is taking place in Western Australia with Kuindersma who will then take the work to Amsterdam.
The effervescent choreographer was inspired by the hope that dance and music gives, with the choreography being an essential architecture in motion building a connection between dancers and the audience. In 2019, Kuindersma was named in Dance Magazine's Top 25 Choreographers to Watch.
For further information visit: waballet.com.au/whats-on/quarry
Image courtesy of WA Ballet