'Chitty Chitty Bang Bang' flies into QPAC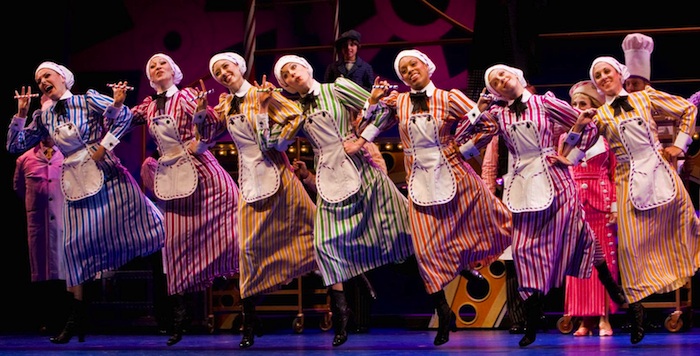 After nearly four years enchanting audiences in London, across the UK and on Broadway, Chitty Chitty Bang Bang landed in Australia in 2012, playing to packed houses in Sydney, Melbourne and Adelaide, and now it is Queensland's turn to be captivated by this wonderfully fun show.
Opening at the Queensland Performing Arts Centre (QPAC) from 19 November 2013, in the Lyric Theatre, Chitty Chitty Bang Bang is sure to delight and excite audiences of all ages.
As the longest running musical ever to play the London Palladium and with the most expensive theatre prop in British history, the show's Australian producer, Tim Lawson, said he was thrilled to be bringing the show to Queensland in November.
"This musical takes inspiration from both the popular 1968 film and the original book written by Ian Fleming," Lawson said. "Chitty Chitty Bang Bang is an action-packed adventure telling the story of the magical flying car, Chitty Chitty Bang Bang, eccentric inventor Caractacus Potts and his two children Jemima and Jeremy, alongside Truly Scrumptious and Grandpa Potts, who are all trying to outwit the dastardly Baron Bomburst and the evil Child Catcher."
"Directed by Roger Hodgman, choreographed by Dana Jolly and with musical direction by Peter Casey, this stage adaption is bold, both cutting from and adding to the original. The Australian creative team and magnificent cast, lead by Rachael Beck and David Hobson, really bring the beloved characters, including Chitty, to life", concluded Lawson.
QPAC Chief Executive John Kotzas believes that Queensland audiences will enjoy this production, which lands at QPAC just in time for the summer school holidays.
"We know Queensland audiences love musical theatre. In just the past two years more than 700,000 people have attended musical theatre productions at QPAC, including Mary Poppins, Annie and Jersey Boys, and we're sure audiences will now love Chitty Chitty Bang Bang," Kotzas said.
The Australian production of Chitty Chitty Bang Bang features all of the iconic songs from the original film and brings together a full company of more than 70 (including eight dogs), sensational sets and stunning special effects.
"Children will be able to join in the magic with performances throughout the summer school holiday period, and I'm sure there are many parents out there who remember the 1968 movie of Chitty Chitty Bang Bang starring Dick Van Dyke very fondly," Kotzas said.
Perhaps the most highly anticipated family musical of 2013, Chitty Chitty Bang Bang will be presented at QPAC from November 2013, with tickets now on sale from via www.qpac.com.au.
Photo courtesy of Queensland Performing Arts Centre.