CDCWA to present 'Behind The Veneer'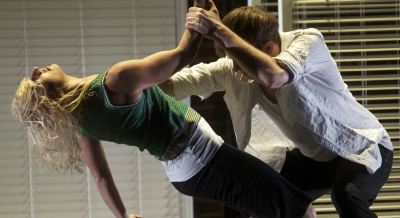 The Contemporary Dance Company of Western Australia (CDCWA) will present Behind The Veneer as part of Buzz Dance Theatre's 2015 dance program BuzzEd for Schools.
Directed by Cadi McCarthy and performed by Sarah Chaffey, Peter Fares, Lonii Garons Williams, Jake Kuzma, Amy Macpherson and Russell Thorpe, Behind The Veneer will be performed on March 20 and again March 26-28 at 7 p.m. at the Dolphin Theatre at the Crawley Campus of the University of Western Australia.
Behind The Veneer is a highly physical, captivating and accessible dance theatre work that unravels the many and varied masks we wear to function in different situations, to stay in control and keep relationships afloat.
The work is 50 minutes in length and is suitable for viewers aged 13 and older. Shows will not have an intermission. For more information or to follow CDCWA on Facebook, head to www.facebook.com/pages/The-Contemporary-Dance-Company-of-Western-Australia/1505550783060872.
Find out more about the new Contemporary Dance Company of Western Australia in this article from the March edition: www.danceinforma.com/magazine/2015/03/welcoming-cdcwa-australian-dance-scene/
Photo by Ashley de Prazer, courtesy of CDCWA.