Catalyst Dance Masterclass Series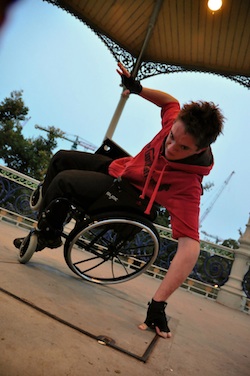 Accessible Arts, an arts and disability organisation, will offer the Catalyst Dance Masterclass Series in August and September of this year. The series aims to provide skills development and training for dance practitioners, teachers, choreographers and dancers with and without disability.
The series consists of three progressive workshops in which participants experience professional development and training from some of Australia's leading choreographers. The classes will culminate in a showcase performance at Bangarra Dance Theatre.
Overall, the workshops are designed for dancers with and without physical or sensory disability, and for people with mental illness or acquired brain injury.
The first masterclass will be offered Saturday, 31 August and Sunday, 1 September. The second masterclass will be presented Saturday, 7 and Sunday, 8 September. The third will be offered Friday, 13 and Saturday, 14 September. Each class will run from 10 a.m. to 4 p.m. each day with regular refreshment and lunch breaks.
Enrollment in the masterclasses will also require attendance to the scheduled dress and technical rehearsals held in preparation for the public showing, which is scheduled for Sunday, 15 September.
All workshops, as well as the performance, will take place at the Bangarra Studio and Theatre, located at Pier 4 at 15 Hickson Road, Walsh Bay. Registrations for the 2013 series is now open.
For more information on these masterclasses, visit aarts.net.au/catalyst. The early bird registration discount is only available through Friday, 19 July.
Photo: Dancer Matthew Shilcock. Photo courtesy of Accessible Arts.