Casting Call for SA Dance Festival- Apply Now!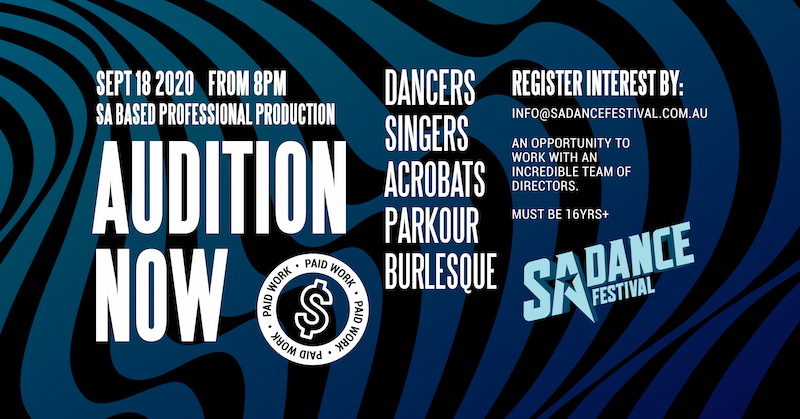 SA Dance Festival are looking for a variety of SA based talent to produce a professional production that will open in January 2021. Applicants must be 16yrs+ Dancers, Singers, Acrobats, Parkour, Burlesque Talent and would be required for a 3 week rehearsal period prior to opening night.
Pay rate to be confirmed with talent once cast and dancers would need to have availability: December/January. Auditions are to be held September 18th, 2020 at ACPA Studios in SA.
The audition schedule is:
7.45pm: Dancers
8.45pm: Singers
9.15pm: Circus/Acro/Stunts/Parkour
9.45pm: Burlesque/Variety Talent
All talent will be required to register for auditions by emailing info@sadancefestival.com.au by 17th of September. Please also send through your CV/Headshot. Dancers will be taught choreography in the audition. Singers are to come prepared with 2 vocal numbers of their choice. If you are Acro/Parkour/Circus or Burlesque, you will need to come with a prepared performance that will showcase your skill.
Submissions are accepted from interstate talent returning home for the Dec/Jan Period but must be done via video submission in the way of showreel. If interested, producers will reach out for further video content.
To find out more email: info@sadancefestival.com.au