Brisbane Festival announces 2013 dates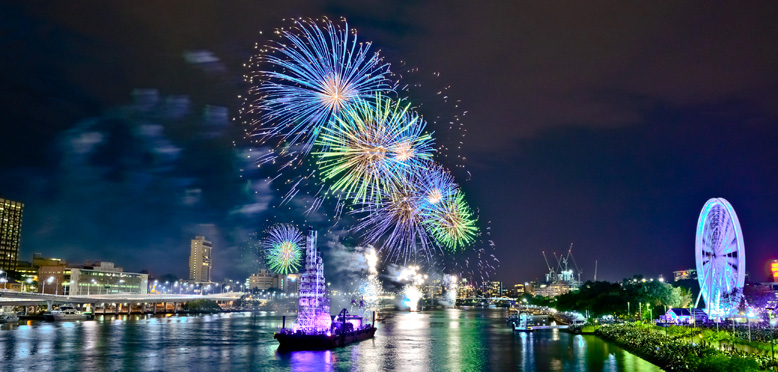 Brisbane Festival, the city's much-loved annual arts festival, recently announced it will paint the town pink from 7 to 28 September 2013. Arts Minister Ian Walker said Brisbane Festival is a time of celebration and vitality for the city.
"Brisbane Festival brings together some of Brisbane's best artists alongside international performers to present a remarkable selection of productions, ranging from intimate to large-scale.
"The Queensland Government is a great supporter of Brisbane Festival with an annual investment of $5.29 million from Arts Queensland and additional support from Tourism and Events Queensland for Santos GLNG City of Lights," Mr. Walker said.
Lord Mayor Graham Quirk said Brisbane Festival was the headline of the city's September calendar of events and was important to business and lifestyle.
"We are a vibrant, creative, multicultural community and festivals like this help us celebrate all that is great about our city," he said. "Over a million people are expected to enjoy Brisbane Festival over three weeks and I encourage everyone to experience this event that brings together the people of Brisbane like no other.
"Under the Artistic Direction of Noel Staunton, the 2013 program is bound to be exciting, engaging and inviting for both Brisbane, interstate and international audience members."
The spectacular Santos GLNG City of Lights will open Brisbane Festival once again on Saturday 7 September and will run every night for three weeks thanks to the support of Tourism and Events Queensland and Santos GLNG Project.
Brisbane Festival Artistic Director Noel Staunton said last year Santos GLNG City of Lights attracted more than 300,000 spectators, with South Bank's Cultural Forecourt packed every night of the festival.
"This year we will be adding some exciting new elements to the show promising to be more impressive than ever," Mr. Staunton said.
Coinciding with school holidays, the iconic Sunsuper Riverfire will return to close the Festival on Saturday 28 September. Meticulous plans are already well under way to create a gripping fireworks display, set to explode in front of hundreds of thousands of people and draw the attention of the entire city.
"Sunsuper Riverfire continues to wow crowds every year. It is always wonderful to see so many families, friends, colleagues and even complete strangers lay out their picnic blankets and have such a great time together," Mr. Staunton said.
Mr. Staunton noted the 2013 program was shaping up to be full of energy. He said, "The city can expect to be entertained by world premieres, Australian-firsts, cross-cultural collaborations and some of the best artists from Brisbane and across the globe. They can also look forward to a touch of Hollywood fame."
He added: "Last year I wanted people to stay up late – they did and we had a ball. This year I want the entire city to put on their party hats in September and make the most of what Brisbane Festival has to offer."
The full Brisbane Festival 2013 program will be announced in June, with tickets on sale shortly after.
Brisbane Festival is an initiative of the Queensland Government and Brisbane City Council. For more information, visit www.brisbanefestival.com.au.
Photo: The iconic Sunsuper Riverfire closed the Brisbane Festival 2012. It will return for this year's festival on Saturday, September 28. Photo by Shutterstorm Photography, courtesy of Brisbane Festival.