Brian Lucas to present Performance Anxiety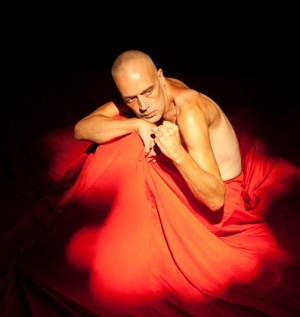 If we've never had it so good, why do we feel so bad? In a special return season, nationally acclaimed performer/choreographer Brian Lucas holds a mirror up to our age of anxiety, revealing reflections which dazzle and provoke in his newest solo physical theatre work Performance Anxiety. Dance, movement, physical imagery, voice and sound combine will create an intriguing and confronting performance in the Turbine Rehearsal Room at Brisbane Powerhouse from 24 October – 3 November 2012.
Lucas draws on personal experience of the particular anxieties which arise when we find ourselves in front of a live audience , and explores the universal parallels that exist between the experiences of the professional performer and the struggle to "perform well" in our day-to-day lives, be it in the bedroom, the boardroom or the supermarket checkout queue.
As these anxieties infiltrate the performance space, Lucas conjures up characters who usually only exist on the periphery of our consciousness. He allows them to take centre-stage – revealing their inner lives, giving voice to their unspoken fears, hopes, strengths and frailties, and providing an opportunity for them to grab centre stage and shine.
This intimate performance in a cabaret style setting is the perfect opportunity for audiences to experience the provocative, powerful and intricately precise works of this stunning dancer and choreographer, who has worked with many of Australia's best known performance companies, including Chunky Move, KAGE Theatre, Chamber Made Opera, Circa, The Queensland Ballet, Queensland Theatre Company, La Boite and, for eight years, Expressions Dance Company (four of those as assistant artistic director).
For tickets contact Brisbane Powerhouse 07 3358 8600 or www.brisbanepowerhouse.org
Photo: Brian Lucas by Fiona Cullen