Bonnie Curtis Projects seek Dancers for their 2020 Season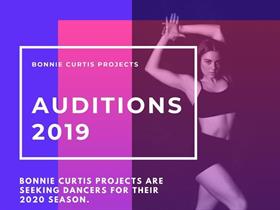 Bonnie Curtis Projects are seeking Dancers for their 2020 Season. Auditions will be held late November/early December in Sydney. The contract will commence in January for a March/April season in Sydney. The deadline to apply is November 17th 2019.
Professional dancers with tertiary or equivalent experience are eligible to apply. They seek dancers with versatility, strong contemporary technique and theatrical skills.
They are interested in hearing from dancers of all genders, ethnicities and backgrounds.
To apply please send an Expression of Interest, CV, Photo and Short Video to ad@bonniecurtisprojects.com