Bloch releases Part 2 of In My Shoes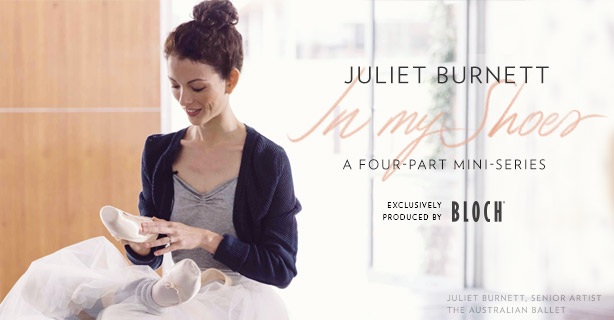 This week, Dance Informa shares Part 2 of Bloch Australia's four-part new mini series called In My Shoes, which spotlights Juliet Burnett, Senior Artist of The Australian Ballet. In this new video, Juliet talks us through the "Juliet Burnett pointe shoe" and the customisations the shoemakers at Bloch have made to create her shoe.
Sydney native Juliet Burnett literally grew up with dance in her blood. (Fun Fact—her heritage includes a grandmother who was the Sultan's principal dancer in his court in Java!) Plus, she had many great teachers coaching her from a young age, ensuring she was a bright and promising prodigy. She recounts training young in the Cecchetti method, first with Valerie Jenkins and later with Christine Keith. The late Valrene Tweedie also mentored her.
In 2000, she was accepted into The Australian Ballet School. Three years later, she was invited to join The Australian Ballet and the rest is history! Now a Senior Artist, Juliet has had many career highlights, including being plucked from the rank of coryphée to create the title role in Matjash Mrozewski's Semele, working with choreographers Wayne McGregor, Glen Tetley and Graeme Murphy, and fulfilling a lifelong dream to dance her namesake role in Murphy's Romeo and Juliet.

As shared in last week's video, Juliet bought her first pair of pointe shoes at Bloch's Sydney flagship store in 1997. Ever since, Bloch has supported her with innovative pointe shoes tailored to her specific needs. In this week's video below, you can learn even more about this.
Like Burnett, Bloch has a rich dance history! Founder Jacob Bloch, a shoemaker by trade, immigrated to Australia from Lithuania in 1931 during the height of The Great Depression. He fashioned his first pointe shoe in 1932 in a candle lit workshop in Paddington, Sydney. Over the next decade, his reputation for unique craftsmanship grew and companies like the touring Ballet Russe de Monte Carlo requested his shoes. Now, more than 80 years later, Bloch has established the brand as one of the most trusted within the industry.

Visit www.bloch.com.au/ims for the next video in the series, out next week.