Big Dance hits Australia for first time in July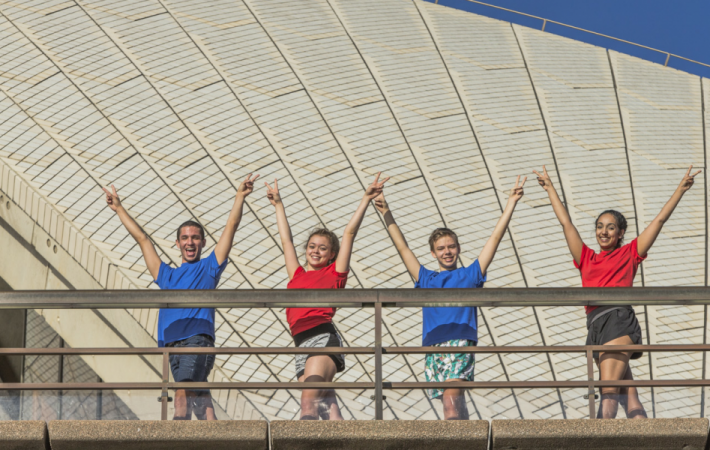 Australians are invited to join in the world's biggest dance event when Big Dance hits Sydney for the first time in July.
This biennial event, which began in the U.K. in 2006, has quickly grown into an international dance sensation, with more than two million people around the world taking part since it began.
And this year, for the first time, Aussies have the chance to join in when Big Dance comes to the Sydney Opera House on Sunday, July 13.
Presented by Sydney Dance Company as part of its 45th anniversary celebrations, Big Dance is a free event open to all people of all ages and all dance abilities. Participants are invited to register online so they can access videos of the specially commissioned Big Dance choreography, created for Big Dance U.K. by Australia's own Rafael Bonachela, artistic director of Sydney Dance Company.
"It's an honour to be invited to create the choreography for this incredible international event," says Bonachela on Big Dance, which has been previously choreographed by Wayne McGregor, Luca Silvestrini, Aletta Collins and Jeanefer Jean-Charles. "Big Dance is an opportunity to share the joy of dance with the wider community. I just love to dance and I believe everyone can have that feeling, at whatever age. You don't need to be a dancer to dance!"
Bonachela says he made the choreography "both fun and accessible" without any heavy technical movement or demanding precision. He says, "[The piece] is just about energy, movement and bridging the distance between us all."
The work will be five minutes in length and will incorporate more than 2,000 dancers. It will premiere simultaneously at 9 a.m. on Sunday, July 13 on the Northern Broadwalk at Sydney Opera House and midnight in London's Trafalgar Square and Glasgow.
With all three sites being linked via a live stream satellite hook up, this is an opportunity for Sydneysiders to help make dance history as part of this massive international performance featuring more than 6,000 total dancers, and most importantly, as a member of the inaugural Big Dance Australia team.
Free Big Dance classes are being held now and over the next few weeks leading up to the performance. Visit www.sydneydancecompany.com/BigDance for details.
To participate, register now online. You can register as an individual or as a dance or community group.
Photo: You're invited to join in Big Dance Australia! Photo by Peter Greig.