Bangarra to perform at Holland Dance Fest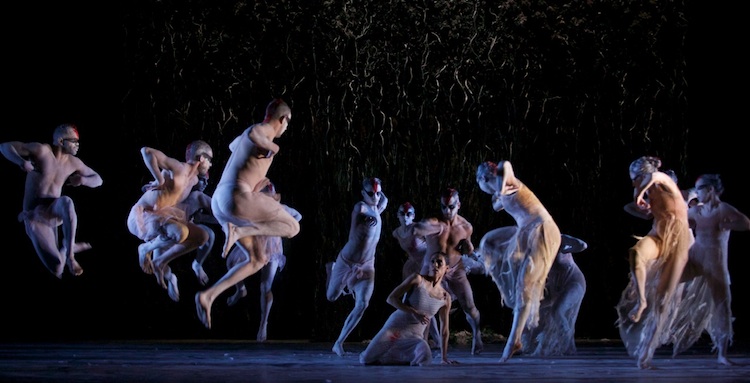 Indigenous performing arts company Bangarra Dance Theatre has announced that it will perform in the Netherlands for the very first time at the 2014 Holland Dance Festival. Dutch audiences will experience a performance of Indigenous contemporary dance theatre as well as have the opportunity to participate in two workshops presented by the dancers of the company.
Prior to the festival opening, Bangarra dancers Deborah Brown and Leonard Mickelo will perform the short work Moth in the Festival Gala on January 25, 2014. The full company will then perform Kinship on February 14 and 15 as part of the festival program.
Catherine Baldwin, Bangarra's Executive Director, said, "The company was very pleased to receive an invitation for Bangarra to perform at the prestigious Holland Dance Festival. We are excited about bringing a truly Australian Indigenous theatrical experience to such a diverse new audience, alongside the world's most exciting dance companies."
Kinship brings together two of Bangarra's most-loved dance works in a breathtaking theatrical experience by award-winning choreographer Stephen Page. The first section will feature Brolga, originally presented as part of the iconic Bangarra production Corroboree. The second work will be ID, originally performed in the acclaimed production, Belong.
Brolga is a creation story inspired by the totemic systems in Australian Aboriginal culture, where every person is assigned a totem related to their clan. Set in North East Arnhem Land, a young girl ventures out before sunset and finds herself on a brolga feeding ground. As she is challenged by her totemic temptation, she takes us on a journey of exploring relationships between humans and creatures, reflecting on the intrinsic spirituality of the natural world.
ID investigates what it means to be Aboriginal in the 21st century, asking important questions of identity. In a series of dramatic and humorous observations, Stephen Page contemplates human nature in modern society where skin colour can drive perceptions rather than embracing differences. This bold dance theatre work celebrates the resilience of Australian Aboriginal culture in both its traditional and contemporary forms.
Performing as part of the dance ensemble is Kathy Balngayngu Marika, Bangarra's artist-in-residence and respected elder from Yirrkala, North East Arnhem Land. Kathy's traditional knowledge and spirit is at the heart of Bangarra, informing the skills, culture, language, music and storytelling that come together to create the company's distinctive work.
Holland Dance Festival, the most important dance festival of the Netherlands, will once again form the jewel in the crown The Hague, from 25 January to 16 February 2014. In its 14th edition, the festival is presenting dance from the Netherlands and abroad. For three whole weeks, Holland Dance Festival will let audiences experience the great diversity of dance. For more information on Bangarra Dance Theatre or its upcoming performances at the Holland Dance Festival, visit www.bangarra.com.au.
Photo: Bangarra Dance Theatre in Kinship. Photo by Greg Barrett.