Bangarra Dance Theatre to tour 'Blak'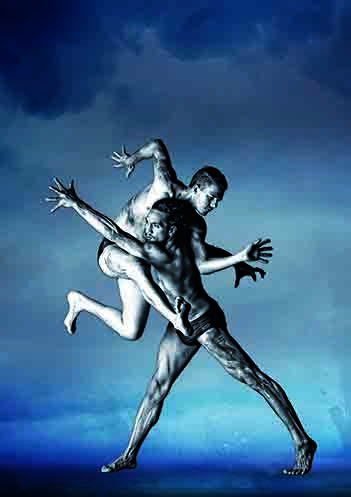 Bangarra Dance Theatre breaks the silence with its emotionally powerful, physically dynamic production Blak. The brand new work explodes with stories about a contemporary clan and the collision of two worlds.
Blak will have its world premiere season at Arts Centre Melbourne from May 3 to 11. Following the Melbourne season, Blak will tour to Wollongong from May 17 to 18 before being presented at the Sydney Opera House from June 7 to 22. The production will then be presented in Canberra (July 11 to 13) and in Brisbane (July 18 to 27) for the final leg of the national tour.
In Blak, Bangarra's acclaimed Artistic Director Stephen Page and dancer/choreographer Daniel Riley McKinley peel back the layers of men's business and women's business, crossing the worlds of old and modern, exposing our universal yearning for spiritual connection.
For the first time, Bangarra's artist in residence and music composer David Page will collaborate with Paul Mac on the exciting soundscape for Blak, bringing together two legends of contemporary Australian music. A songwriter, musician and producer, the multi-ARIA award winning Paul Mac is one of the country's leading figures in electronic music.
"I have had such an incredible experience working with this crew. Being able to experiment with sonics, rhythms, and arrangements out of the straightjacket of pop music has been completely liberating," said Paul Mac.
"Watching the dancers bring it to life through Daniel Riley McKinley and Stephen Page's choreography has taught me so much about dance. I have never written for a contemporary dance company before, so I jumped at the chance to collaborate and co-write the music for Blak with David Page."
Fourteen dancers will be featured in Blak, including the two newest Bangarra company members Nicola Sabatino and Beau Dean Riley Smith, and guest artist Hunter Page-Lochard. The son of Stephen Page, Hunter is one of Australia's young talents to watch, having appeared in previous Bangarra productions, last year's acclaimed Sydney Theatre Company production Bloodland and numerous films including the worldwide hit The Sapphires.
Drawn from the artists' urban perspectives, Blak tells the stories of contemporary Indigenous Australia in a work of dance theatre that is physical and edgy. Jacob Nash's sensational set designs, Luke Ede's costumes and Matt Cox's lighting will combine to bring further depth and mood to Bangarra's evocative theatrical journey.
Under the leadership of Artistic Director Stephen Page, Bangarra Dance Theatre is acclaimed for its performances throughout Australia and internationally most recently in New York, Mongolia and Vietnam. Named NSW Australian of the Year in 2008 and NAIDOC Artist of the Year in 2012, Stephen Page has long been recognised for his phenomenal ability to create milestone productions in the Australian cultural cannon. Continuing his commitment to the next generation of story-tellers, Page has commissioned Bangarra dancer Daniel Riley McKinley to create his second choreographic work for the 2013 production Blak. For more information, visit www.bangarra.com.au.
Photo: Bangarra Dance Theatre in a moment from Blak. Photo by Greg Barrett.