Bangarra community events in Sydney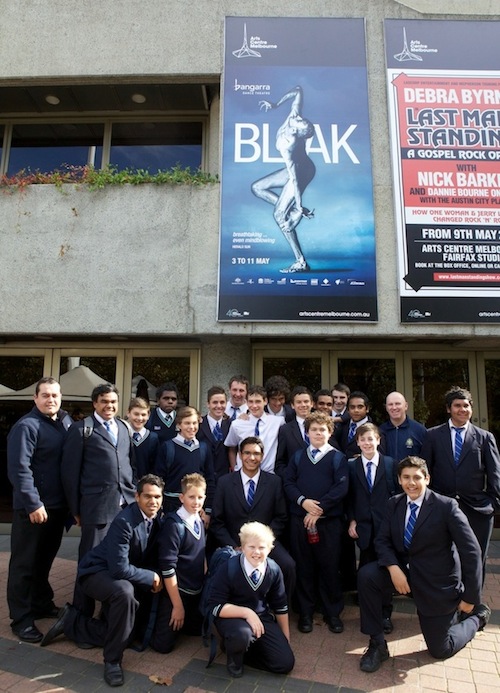 Bangarra Dance Theatre will take to the Sydney Opera House stage next month with Blak, an exciting new, physically dynamic work by Artistic Director Stephen Page and choreographer/dancer Daniel Riley McKinley. During the Sydney season of Blak, Bangarra will also host a series of events to inspire and engage with up to 500 people of Sydney's Aboriginal and Torres Strait Islander communities, particularly with young people.
Bangarra's Artistic Director Stephen Page said, "Our dancers are great role models for Indigenous young people. They come from diverse backgrounds, some from remote and others from urban communities. Each of them are part of the contemporary expression of over 40,000 years of continuous cultural practice. They help young people to see the value of rekindling their culture and being proud of their identity."
A Community Night performance of Blak will be held on Thursday, June 6 at 8 p.m. with accessible tickets made available for Aboriginal and Torres Strait Islander audiences. As with previous Bangarra Community Nights in Sydney, this will be a special experience for audiences as well as the artists of Bangarra themselves. The atmosphere is always electric and celebratory. Subsidised by Bangarra Dance Theatre, low cost tickets for this performance are made available to local Indigenous communities. For more information, email community@bangarra.com.au or call (02) 9251 5333.
After the success of Bangarra's previous Koori Kids Day performances, the company is pleased to announce that they will be hosting Koori Kids Day again this year at the Sydney Opera House on Wednesday, June 12 from 12:30 p.m. until 1:40 p.m. With thanks to BHP Billiton, Bangarra is able to offer heavily discounted tickets to Aboriginal and Torres Strait Islander secondary school students from the city and outer metropolitan areas. Schools invited to attend include Airds High School, Sir Joseph Banks High, Ashcroft High School, Richmond High, Endeavour Sports High, Liverpool Girls High, Picnic Point Hight, Bass High, Chester Hill High and Glenmore Park High.
At Koori Kids Day, Bangarra's artists-in-residence will make compelling presentations about their work and the practices they employ to create new dance pieces. After the performance, the students will have an opportunity to engage with Artistic Director Stephen Page and other Blak creative team members during a Q&A session. Following the Q&A, students will have the chance to meet the members of Bangarra in the foyer. For more information and to purchase discounted tickets for the special Koori Kids Day matinee performance, schools can email community@bangarra.com.au or call (02) 9251 5333.
Ian Wood, Vice President Community Relations and Sustainability at BHP Billiton said, "We are delighted to be Bangarra's 2013 Outreach partner, supporting their performances, educational workshops and community programs right across Australia. Bangarra's artists are inspirational role models for young Australians. Students who participate in Bangarra programs credit the experience for increasing their self-confidence, growing their understanding of culture and storytelling and feeling pride in their heritage. This partnership is a wonderful way for us to support the communities in which we operate."
Blak is drawn from the artists' urban perspectives, telling the stories of Indigenous Australia in powerful and moving dance theatre. Exploding with stories about a contemporary clan and the collision of two worlds, the dynamic physicality is accompanied by a fusion of David Page's soundscape with the electronic mixes of Paul Mac.
Following the Sydney season of Blak at the Sydney Opera House, the production will then tour to Canberra and Brisbane.
Bangarra Dance Theatre is Australia's premier national Indigenous performing arts company. Under the artistic direction of Page, Bangarra has strived to maintain the cultural integrity and spirit of Aboriginal and Torres Strait Islander tradition, combining it with contemporary expressions of stories, dance and music to create unique theatrical experiences, and to deliver these experiences to audiences across Australia and around the world.
Photo: Bangarra Dance Theatre's 2013 Melbourne season of Blak presented a Koori Kids Day recently. Students from St Patricks College participated. Photo by Greg Barrett.