Ballet Revolución to hit NZ & Oz for 3rd tour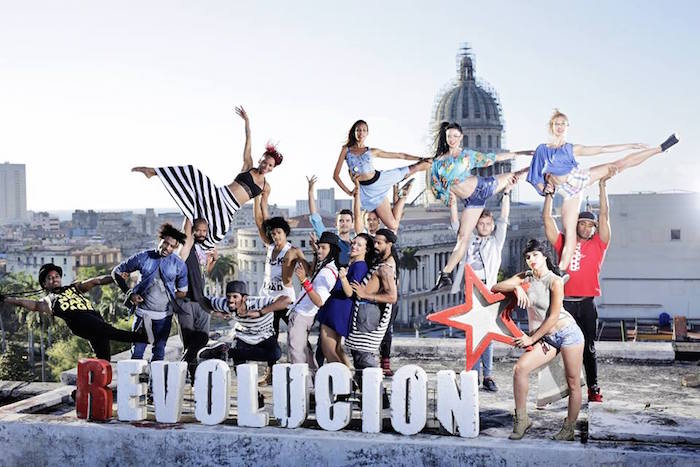 Direct from Cuba, Ballet Revolución – the show that has taken Europe by storm – returns to Australia and New Zealand this month to present a brand new production. Ballet Revolución is recharged, rebooted and ready for its Aussie and Kiwi fans once again. Its tour starts in Auckland on June 17 and goes to Wollongong, Canberra and Sydney before the start of July.
Touring down under for a third time, this troupe is made up of innovative and highly trained dancers that studied at Cuba's Escuela Nacional de Arte, which boasts a renowned modern dance faculty and classical dance instructors.
Australian choreographer Aaron Cash and Cuban choreographer Roclan Gonzalez Chavez have created a show that blends ballet and contemporary movement with salsa and Cuban dance to produce a unique fusion. The troupe partners with a live band of Cuban musicians.
Attending the company's June 2013 show at the State Theatre in Sydney, Dance Informa's Renata Ogayar was wildly impressed. She wrote, "Ballet Revolución is, in my opinion, the most dynamic, sensual and engaging ballet performance that has been brought to Sydney, Australia."
Now audiences get another chance to enjoy this company and their performances. The Cuban dancers' exuberant energy and contagious joy of life turn any idea into an explosive and intense performance. With breathtaking twists, daring jumps and sensual moves from ballet to street dance, Ballet Revolución has already thrilled audiences in sold-out shows from Singapore to Berlin, Vienna and London.
In her review, Ogayar gushed, "The men were to die for. Delicious extensions, sensual contracted curves, pronounced stance and propelling power with each jump, all displayed with an ease of smooth masculinity. Heat absolutely oozed from the stage, as did the passion for dance."
She added, "The women on the other hand were just as incredible in their fun, sexy, flirtatious, elegant, yet edgy manner."
The Australian echoed this sentiment, calling Ballet Revolución "an irresistible Cuban cocktail of ferocious sensuality."
The show is set to Latin American and pop music performed by the eight-strong band, featuring international hits from Sia, Bruno Mars, Beyoncé, Usher, Lorde, Jessie J, Rihanna, J LO and others.
See these 19 highly skilled dancers and their tremendous versatility, musicality and passion run free at one of the tour locations listed below. For more information, head to http://balletrevolucion.com.au.
Tour Dates and Locations
June 17–21, Auckland, NZ, The Civic Theatre
June 23, Wollongong, WIN Entertainment Centre
June 24, Canberra Theatre
June 25–28, Sydney, State Theatre
July 1–5, Melbourne, State Theatre
July 7, Frankston Arts Centre, VIC
July 9–12, Brisbane, Concert Hall, QPAC
July 14–19, Adelaide, Her Majesty's Theatre
July 21–31, Perth, The Regal Theatre
Photo courtesy of Ballet Revolución.