Australia's Largest Hip Hop Event This Weekend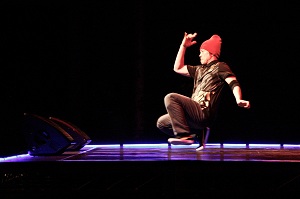 This Saturday and Sunday October 6-7, Carriageworks, Sydney will host Platform 5 – Australia's premier hip hop event bringing together a mind-blowing list of local and international artists from every aspect of hip hop culture.
Running across two action-packed days, this highly anticipated national event presents cutting edge performances by the finest breakers, MCs, DJs and graffiti artists from across the country and around the globe ranging from the freshest emerging hip hop talents to pioneers of their form.
In its fifth year, Platform returns with an awesome, world-class program. Under the direction of Artistic Director Nick Power aka B'Boy Rely, Australia's best b'boy crews will be battling for supremacy, alongside an international b'girl competition. Platform 5 will also feature performances and workshops by international b'boys Jacob 'Kujo' Lyons (U.S) and Katsu as well as b'girl and choreographer Valentine Nagata-Ramos (France). A special fight-club style battle by Secret Walls , as well as a graffiti competition with some of Sydney's best graff writers painting live, followed by open tagging and sketching comps. Finally, popping battles, a beatbox showcase and the 'next gen' b'boy battle will complete this dynamic, vibrant and intensive two day event.
For the first time ever, Platform will this year also feature the most ambitious Hip Hop Symposium ever staged in Australia. Taking place on Sunday 7 October, Carriageworks will be converted into a hip hop industry haven with an intensive one day program of in-depth discussion panels and master class opportunities.
For entry details and full program schedules visit www.carriageworks.com.au