Australian Ballet to jeté into Capitol Theatre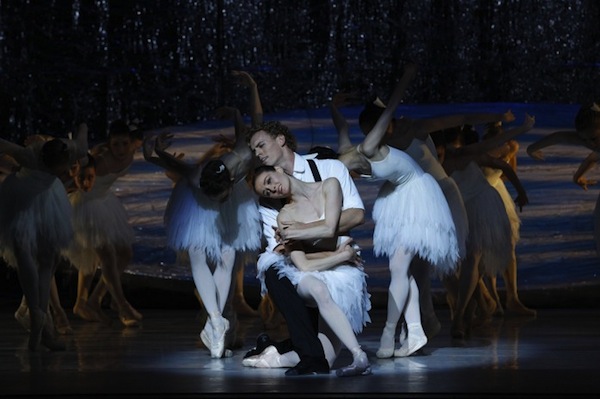 Sydney audiences will have the opportunity to see The Australian Ballet's internationally acclaimed masterpiece as never before, as Odette meets her Prince in the most regal of settings.
In February 2015, for the first time ever, The Australian Ballet will perform Graeme Murphy's iconic production of Swan Lake at Sydney's Capitol Theatre, dancing on the stage that has hosted such blockbuster musicals as Wicked, The Lion King and Miss Saigon.
Created especially to mark the company's 40th anniversary in 2002 and last performed in Sydney in 2008 in a sold-out season, this is a Swan Lake unlike any other. It perfectly combines the best of old and new in a thoroughly unique production.
Inspired by the notorious love triangle between Princess Diana, Prince Charles and Camilla Parker-Bowles, this is no traditional good vs. evil love story. In a world of scandal, lust and betrayal, no heart is left untarnished. Setting his ballet to Tchaikovsky's instantly recognisable and dramatic score, Murphy melds the sheer power of a classic with a modern day romance.
David McAllister, artistic director of The Australian Ballet, said that this season will be the perfect opportunity for the company to share its most celebrated work with audiences old and new.
"Murphy's Swan Lake is the ballet that perfectly embodies The Australian Ballet's motto 'caring for tradition, daring to be different,'" said McAllister. "It showcases the technique and athleticism of our dancers while storming into new territory with a modern, sensual and dramatic narrative."
The Capitol Theatre, with its opulent interior, will provide a stunning setting in which to see this production.
"We've toured this production to London, Paris, Tokyo, Nagoya, Shanghai and New York, where packed houses and standing ovations justified our status as a world-leading ballet company, and we're thrilled to be returning this production to Australia with a treat for home audiences," concluded McAllister.
Swan Lake will be presented with the accompaniment of a live orchestra in Sydney for 11 performances on February 20–28. To book tickets, visit australianballet.com.au.
Photo: Amber Scott and Adam Bull in Graeme Murphy's Swan Lake. Photo by Jeff Busby.