Australian Ballet School secures student home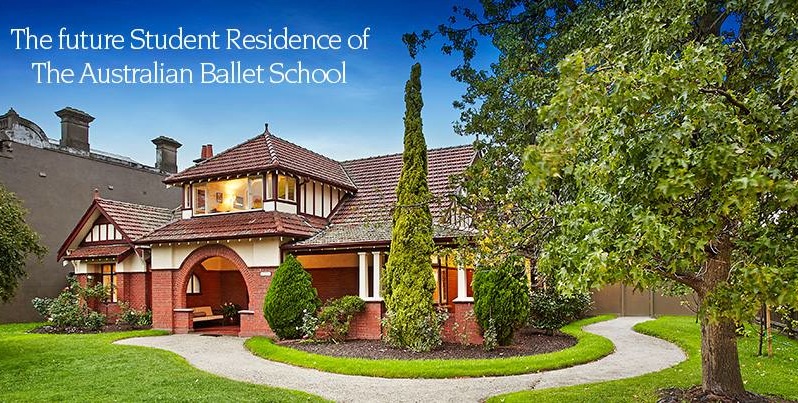 The Australian Ballet School has announced that it has secured a site for a Student Residence.
"Achieving a student residence is the last outstanding part of the vision I set for the school when I commenced as its director 16 years ago," said Marilyn Rowe OBE, the director of The Australian Ballet School. "As the school celebrates its 50th anniversary this year, there is no better way to mark this historic achievement than to secure the property that will become our student residence and bring to fruition that which I dreamed of so long ago."
The property was secured by the school at auction on Saturday, May 24. It is located in The Avenue, Parkville, opposite Royal Park and only 5km from the school by tram.
The property, described by real estate agents as a "glorious Queen Anne residence", comprises 10 principal rooms and sits on over half an acre of land. Along with its existing open garden space, once it is renovated and adapted to the school's purpose, the property will make for a home away from home for students travelling from interstate, country and regional Australia, and overseas.
"This residence will mean that, as the national centre of excellence in classical dance training in Australia, the school will now be able to best meet the duty of care needs for our students from non-metropolitan Melbourne," said Leigh Johns, the school's chairman. "These talented young Australians and their families have been in desperate need for this support for so long."
The home will be especially helpful to full-time students aged between 13 and 18 years who come from overseas and across Australia to study. According to the school, 80% of students come from outside Victoria; a further 5% of students are from outside metropolitan Melbourne. Experience shows that the issue that contributes most to their ability to maintain the emotional stability needed to successfully engage in the ABS course is a secure and happy accommodation arrangement.
The current choice for those students is to live independently, live in homestay or for their families (or one parent) to move to Melbourne. There are many situations where a family is forced to leave some members at home and have others move to Melbourne to facilitate the students desire to attend the school.
Each year approximately 10% to 15% of offers to enter the school are declined. Many of those declining chose not to accept because they were too young to separate from their families and move to Melbourne without appropriate duty of care such as that provided by the many boarding schools around Australia. Now, the residence will combat that and provide a safe place for these students – a home away from home.
Rowe, who has been envisioning this student residence for years, is thrilled to see her tireless work come to fruition. The Federal Government has recognized overtime that, as part of the school's duty of care to young students, it needed a student residence. After much planning and campaigning, this project has become a reality. The support from successive Federal Governments and Arts Ministers has been essential. Current Arts Minister, Senator George Brandis QC, also recognised the urgent need for this project, allocating $1 million from the recent federal budget to the ABS.
The property at The Avenue meets the school's needs in many respects. It is located on a large block of 2,025 sqm, centrally located in Parkville. The existing home is around 100 years old but is in generally good condition, and is appealing and "homely" in character. There is substantial scope for both a renovation to the existing home and, in the longer term, if so desired, to build a stand-alone structure to the rear of the block.
Rough sketches indicate that post-renovation the home could initially accommodate at least 28 students, a Head of Residence and a Residential Supervisor; with the potential to eventually house additional students.
The ABS has now secured close to 75% of the funds needed to completely finalise the project. It will now launch a campaign to engage with the wider philanthropic community to hopefully secure the balance of funds needed to complete the project by the end of 2014.
For more information, visit www.australianballetschool.com.au.
Photo courtesy of The Australian Ballet School.