Auditions – Universal Studios Singapore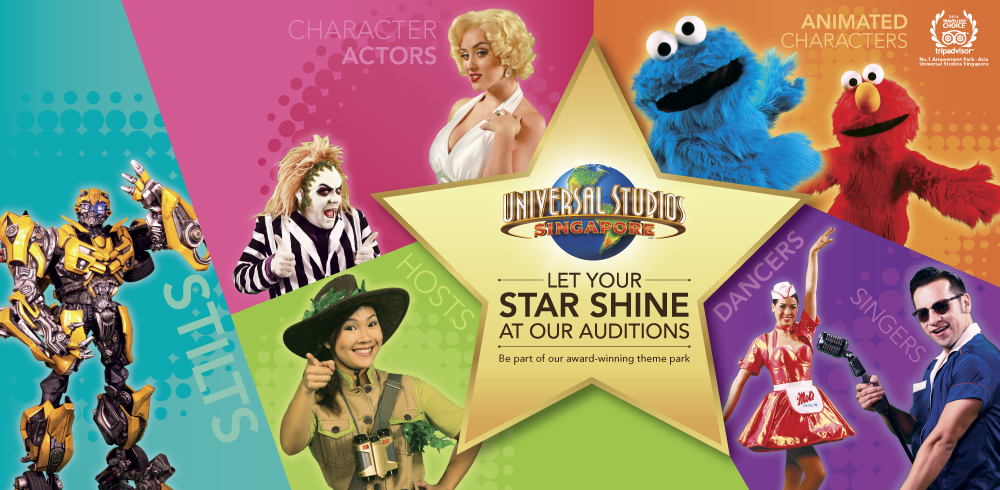 Universal Studios Singapore are searching for talented singers, dancers, break dancers, celebrity look-a-likes, character actors and voice impersonators for its world-class entertainment offerings. Auditions are being held in Melbourne and Sydney this month.


MELBOURNE 16th & 17th March at Jason Coleman's Ministry of Dance.
SYDNEY 19th and 20th March at Seymour Centre.


Are you Enthusiastic? Self-motivated? Ready for an exciting new challenge? If you think you've got what it takes to become part of the Universal Studios Singapore family, join the audition! Here's what some performers love about working at Universal Studios Singapore:

"I love my job because I get to sing my favourite song since I was a kid (Uptown Girl) everyday…and it doesn't get old for me. I love that everyday is difference depending on the type of audience and who you're on stage with. Lastly, I love that people love our show. Having dozens of fans makes me feel like a superstar!"
Zach Parore – New Zealand
Role: Cruiser

"I think the best part of my job is seeing the guests faces light up when we step on stage; their smiling faces really makes it all worth it. And if we can make just one persons day by performing and entertaining, I think that's pretty special."
Jemma Kayla Williams. – Melbourne, Australia
Role: Mel's Dinette

"What better way to share your passion than with people that aren't just a great team, but people you can call family."
Tiffany Lawrence – Cleveland
Role: Nile Princess

"No matter how crazy life gets I can always look forward to the magical moments that come from interacting with our guests."
Jeremiah Isaac – Washington DV
Role: Voice actor for Donkey Live

"There is so much to love about what I do here. I get to play such an iconic character and it's such an honor. One of the things I love most is being able to make people happy and smile, especially kids. If I can make someone smile, even just for a little while, I'm happy, because as Marilyn said, "life is a beautiful thing and there's so much to smile about".
Alexandra Knight – Melbourne, Australia
Role: Marilyn

"I started off my contract playing 'FRANKIE' in Monster rock in 2013, Fast forward to today (2015) and now I'm a park swing and have performed in over 28 roles since joining. Every month I have been in rehearsals for something new, learning so many new roles and characters under the direction of a great production team, that have encouraged and pushed for excellence and whom aspire to create new and entertaining shows for Universal Studios Singapore."
Robert Walters – Sydney, Australia
Role: Swing

Don't miss your chance! A life-changing adventure awaits!

Send submissions by email to ussaudition@RWSentosa.com, and visit www.ussauditions.com for more information.

Universal Studios Singapore – Character Breakdown (Overseas Auditions)

The Mel's Dinettes
Join the singing & dancing waitresses of Hollywood's most well-known drive-in restaurant. The Mel's Dinettes 'Shake, Rattle, & Roll' to the high energy hits of the 50's & 60's daily at Mel's Diner.

The Mel's Dinettes are gorgeous & fun female singer/dancers in an outdoor show. Strong dancers with excellent singing ability are required (All female vocal ranges are considered).

The Cruisers
The Cruisers are an all-male 50's pop singing group who charm their audience as they perform some of the greatest hits of all time. Renowned as 'the coolest of the cool', the Cruisers require a 50's/60's pop sound with the ability to harmonize, strong movement ability, engaging personalities and excellent interaction with park guests who are in close proximity. All vocal ranges will be considered.

The Rockafellas
The Rockafellas are our resident b/boy crew, who will 'wow' you with their heart-pumping dance and acrobatic performance. Lead by their host, the crew have an undeniable following from their audiences as they involve them from start to finish in this dynamic, humorous and interactive street show.

B-boy dance, acrobatics, and a great personality are essential. The ability to host on microphone are a plus.

Character Actors (ATMOSPHERE, OUTDOORS)

MARILYN MONROE Curvaceous female actress to portray the classis American icon. Must be able to convey the subtle, sexy "Blonde Bombshell" nuances, while interacting with resort guests.

CHARLIE CHAPLIN Must convincingly portray the Oscar winning Silent Screen icon during The Tramp period of his career. Refined manners and gentle spirit required, with the ability to do physical comedy while interacting with resort guests.

BEETLEJUICE The "ghost with the most" possesses minds, bodies and souls – making him the ultimate puppet master. This obnoxious and slightly perverted "bio-exorcist" revels in his grotesque appearance. The character's history is a mystery; his age and even how he came to die remain unknown.

BETTY BOOP With her sex symbol appeal, combined with girl-like persona, this vibrant young woman (with a childlike voice) has more heart than brains. This flirtatious flapper should be bubbly and bright while interacting with resort guests.

SCORPION KING The last true warrior who made a deal with Anubis in a bid for revenge. Bigger than life, with a physique to match, this role requires a performer who is not body conscious. Should resemble the movie character and portray the captivating qualities of a man who knew only death and murder as his purpose in life.

THE NILE PRINCESS A beautiful mistress with an agenda, who will go to any lengths to get what she wants. With a statuesque physique and Egyptian coloring and/or olive complexion, this role requires talent who is not body conscious.

Voice Actors

DONKEY Shrek's Fairytale sidekick Donkey brings the crowd to its feet in this one-of-a-kind interactive theatre show. Guests sing along and even talk to Donkey in an intimate theatre setting. This show requires a vibrant voice artist to replicate the iconic voice of Donkey with charm, wit, and impeccable comic timing.