Audition for 'Priscilla Queen of the Desert'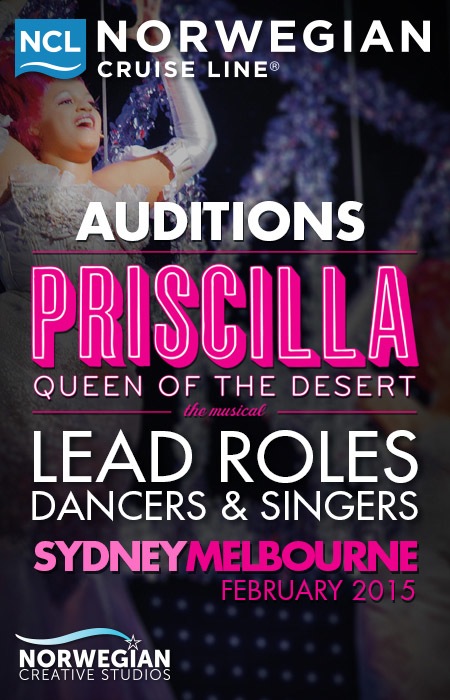 Norwegian Cruise Line will hold auditions for roles in Priscilla Queen of the Desert in Sydney and Melbourne in mid-February.
Based on the Oscar-winning film, Priscilla Queen of the Desert The Musical tells the story of three drag performers who set off from Sydney across the Australian desert in a battered old bus christened "Priscilla." The show contains over 20 classic disco hits like I Will Survive and I Love The Nightlife. This contract also includes Epic Variety, a farewell show that brings together the talented casts of Priscilla and Burn The Floor in one theatrical event.
Auditions will be held in Sydney on February 12, 13 and 14 
and in Melbourne on February 15, 16 and 17. Dean Bryant and Andrew Hallsworth, key creatives from the original production of Priscilla Queen of the Desert, will be casting the production in Australia, as well as in London and New York.
Contracts begin August 9 for this production, which is when the handpicked performers will travel to Tampa, Florida, USA to then begin 
rehearsal on August 10.
Performers will board the ship on October 20, according to the France 
itinerary. The Norwegian Epic ports in Barcelona and has a fully European itinerary. The contract ends April 7, 2016. The ensemble pay rate is minimum U.S. $850 per week. Lead performers will be paid minimum U.S. $1,000 per week.
Since these auditions are by appointment only, singers and dancers need to apply ahead of time via email. To apply, send a photo and CV, including your height, to epicpriscillacasting@gmail.com by Friday, January 23.
In preparation for their auditions, all auditionees should prepare two pop or disco songs showing range. They should bring sheet music for their songs (a piano accompanist will be provided) and wear appropriate dancewear, with heels for girls.
Artists considered for the three leading roles of Bernadette, Mitzi/Tick and Felicia/Adam will be allocated a vocal audition and called back as necessary. Male Ensemble Artists will be required to dance first in a group dance call and may be called back to sing if required. Female Ensemble Artists, on the other hand, will be required to sing first and called back to dance if required.
For further information or a more thorough character breakdown, visit norwegiancreativestudios.com.