Ashi range to be released by Energetiks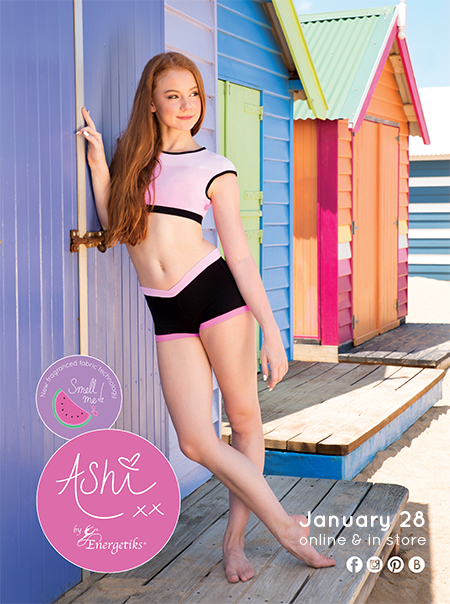 The Ashi by Energetiks range will be released online and in store from January 28! Energetiks has teamed up with teen dancer Ashi Ross to design her dream collection, featuring all new styles in two of her favourite colours – pink and purple!
The collection is bright and colourful, and comes in four new colours – Sherbet, Fairy Floss, Bubblegum and Soda Pop. If that isn't enough, it also smells amazing! Thanks to new fabric scent technology, the garments are scented with either a watermelon (for pink garments) or a berries (for purple garments) fragrance.
On her new collection, Ashi said, "I am so extremely excited to share with you all the new Ashi by Energetiks collection! It is seriously a dream-come-true for me!"
"Working with the team at Energetiks was amazing… I had so much fun designing this collection and making it into something I hope you all love!"
Ashi modeled her collection for Energetiks too. Even though the Brighton Beach photoshoot was on one of the hottest days in Melbourne, she said "it was most definitely worth it!"
To see the new Ashi by Energetiks range, visit www.energetiks.com.au on January 28!