Apply for Lady Mollie Askin Ballet Scholarship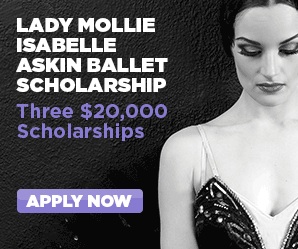 The Trust Company is widely renowned for supporting those who contribute to Australia's cultural heritage. One way in which it does this is by acting as trustee and custodian for a large and diverse group of scholarships and awards.
The Trust Company is particularly well known for its scholarships and awards supporting arts, although it also provides support to students for completion of studies or for postgraduate study overseas in a broad range of fields.
Recently, The Trust Company announced that applications are now open for the 2014 Lady Mollie Askin Ballet Scholarship, with a total of three $20,000 scholarships available.
The Lady Mollie Isabelle Askin Ballet Scholarship provides support for ballet artists to help them further their cultural education. It is awarded every two years for study, maintenance and travel either in Australia or overseas.
The scholarship was established "for the furtherance of culture and the advancement of education in Australia and elsewhere to be awarded to Australian citizens who shall be adjudged of outstanding ability and promise in ballet."
To be eligible for this award, applicants must be Australian citizens aged 17 to 29 years at the closing date of entries, which is at 5 p.m. on Monday, September 29. This scholarship is made possible through the generosity and vision of donors.
To apply, dancers must submit an audition video and a written application online. For more information, visit www.thetrustcompany.com.au/ballet.